Ride your bike across the border to see the Koroški trienale/Carinthian Triennial in Slovenj Gradec and the Bobrčkova pot/Biberweg in Dravograd/Črneče
Another magic E-Bike-Tour in our Geopark Karawanken, this time across the border to Slovenia to see the latest exhibitions in Slovenj Gradec, the new beaver path in Črneče near Dravograd and cool autumn colours everywhere along the way #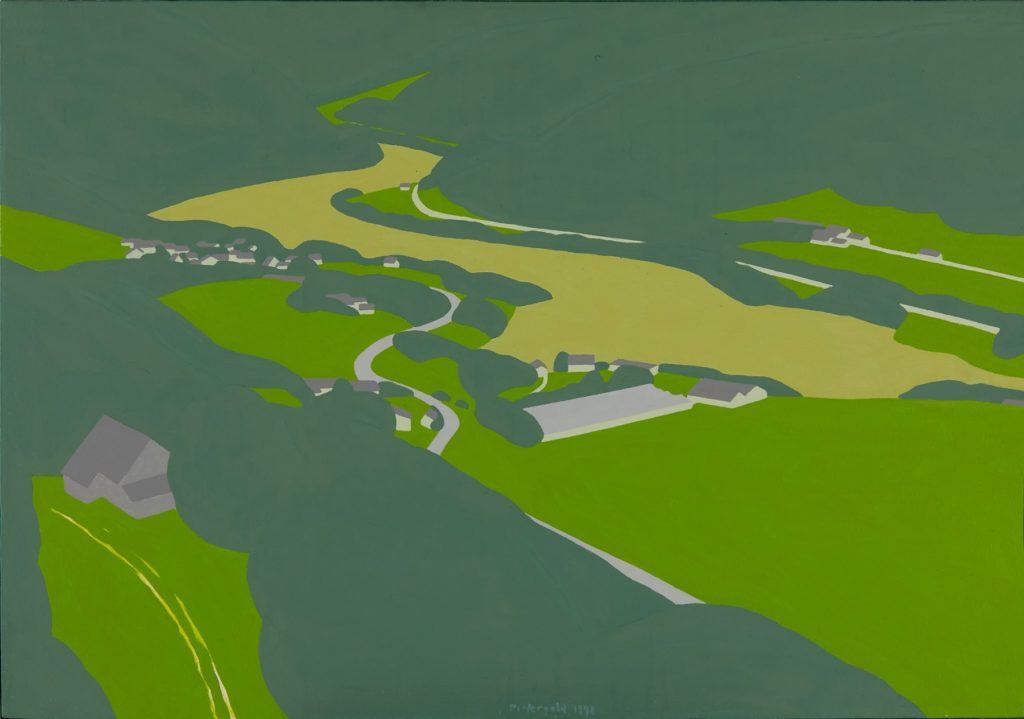 CARINTHIAN TRIENNIAL: »IN MY MIND I SEE A GREEN ROLLING COUNTRYSIDE«,
SEVENTEEN IMAGES OF CARINTHIAN LANDSCAPE
14. 10. 2021 – 28. 11. 2021
Galerija Slovenj Gradec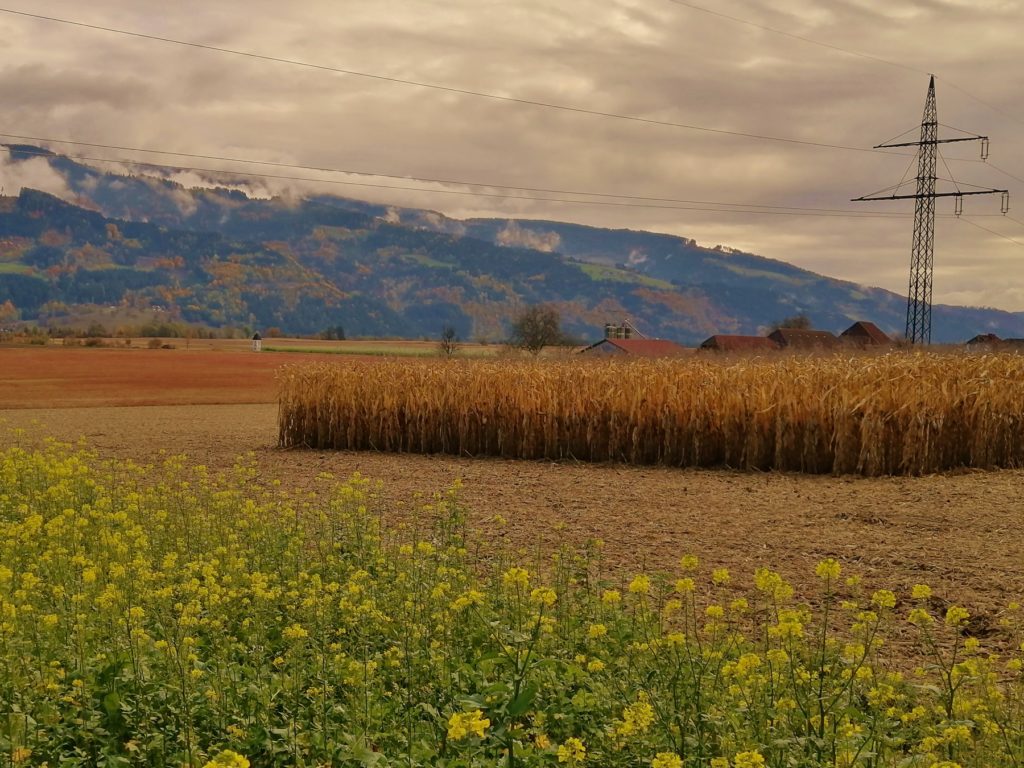 Samstagmorgen in Leifling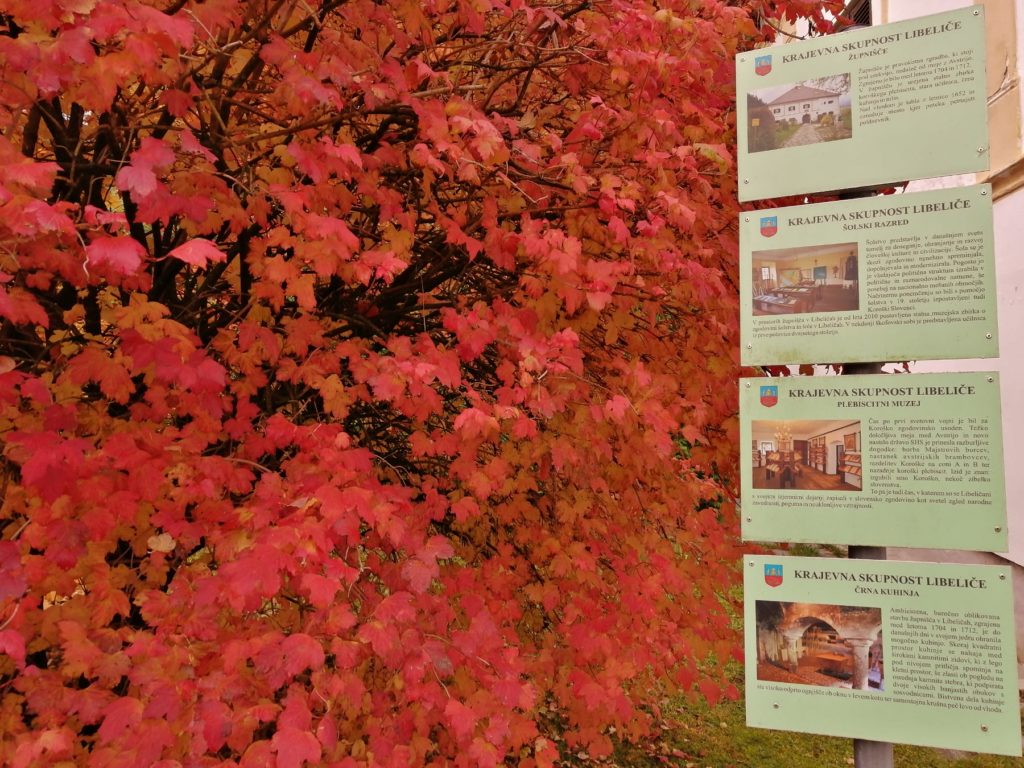 und in Libeliče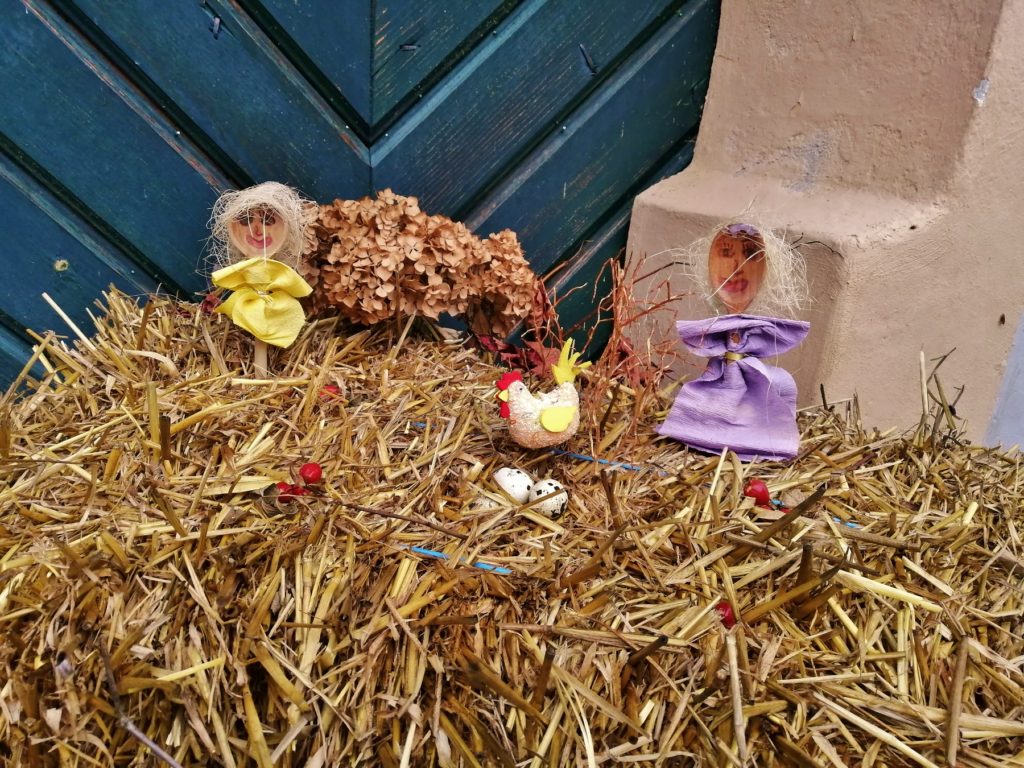 Halloween Hexen (?) vor dem Museum in Libeliče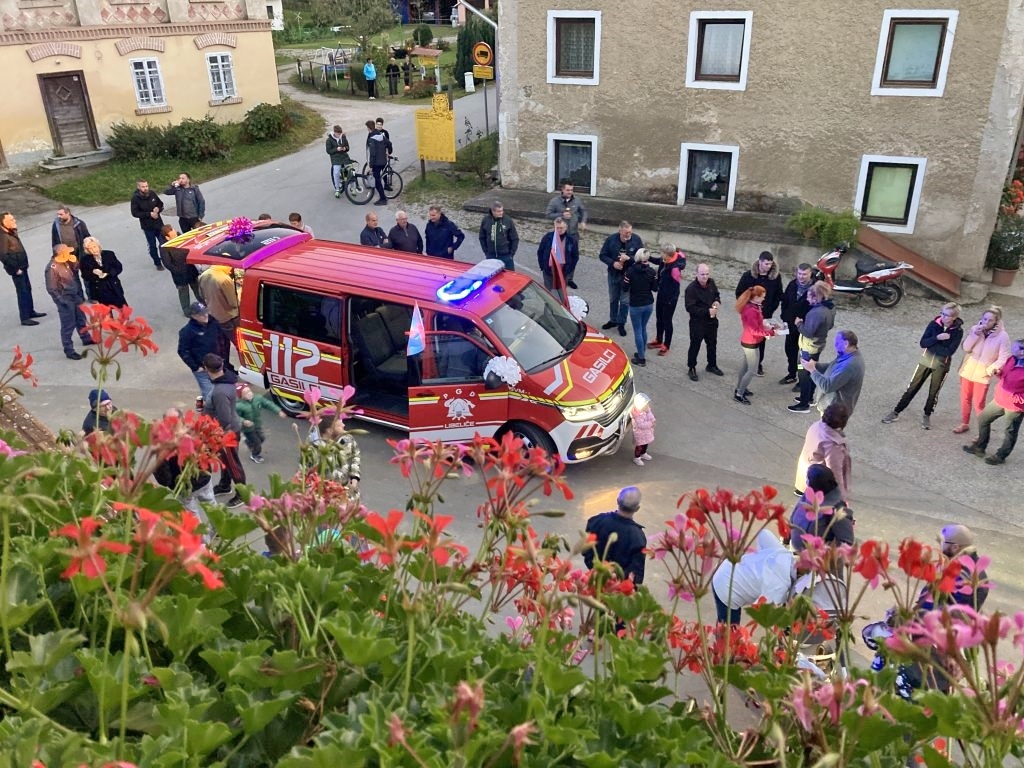 https://www.libelice.si/index.php/2021/10/21/pgd-libelice-z-novim-vozilom/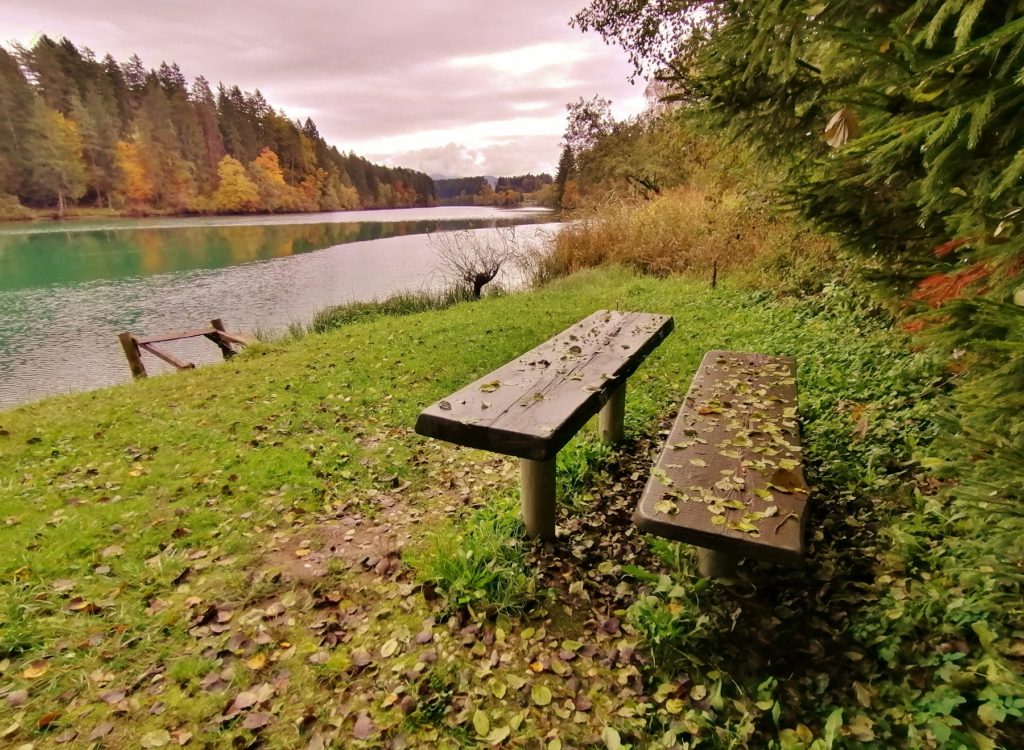 Herbst an der Drau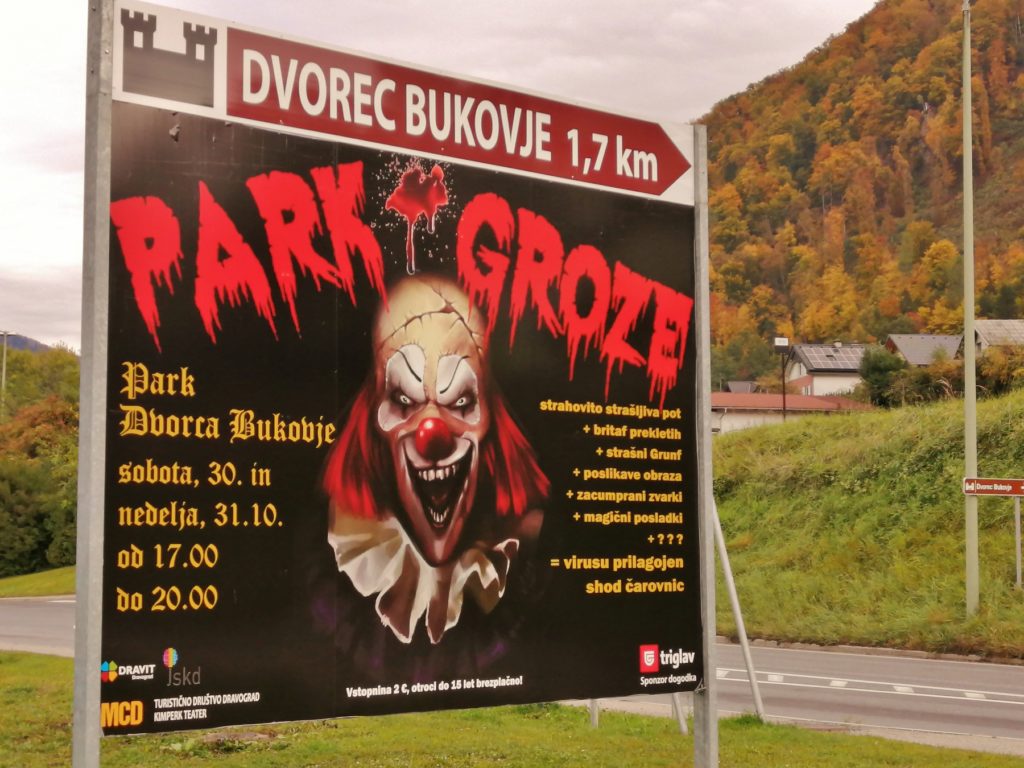 Einladung zum Halloween Spektakel im Dvorec Bukovje Park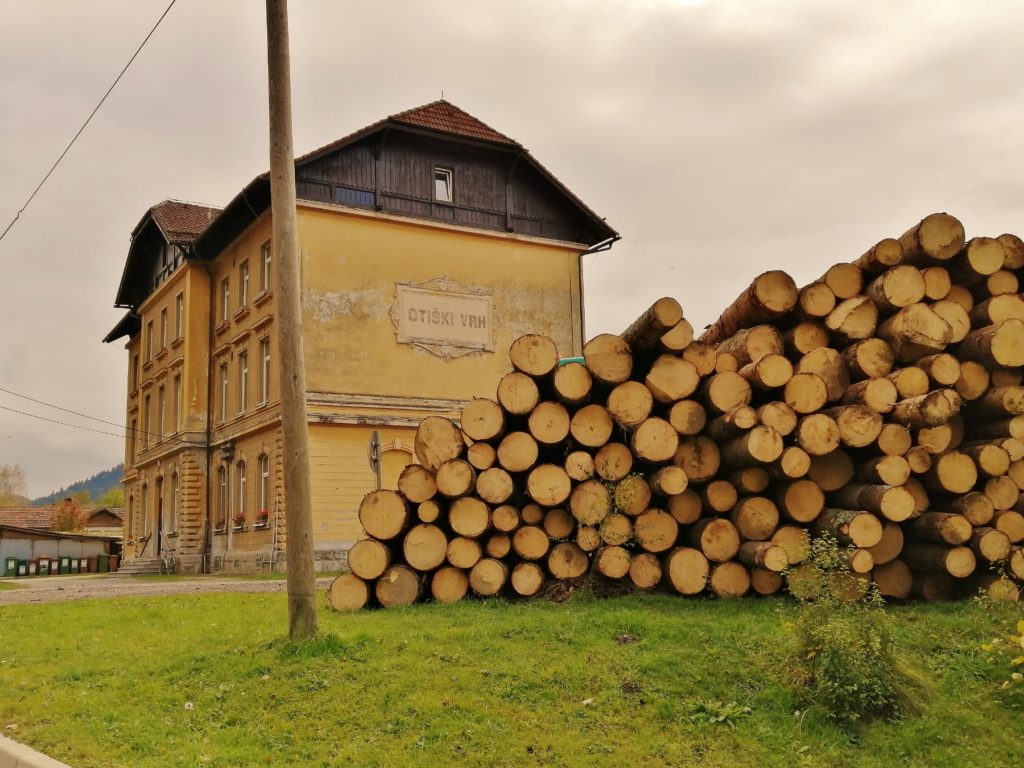 Über Otiški Vrh, im Bild der alte Bahnhof, nach Slovenj Gradec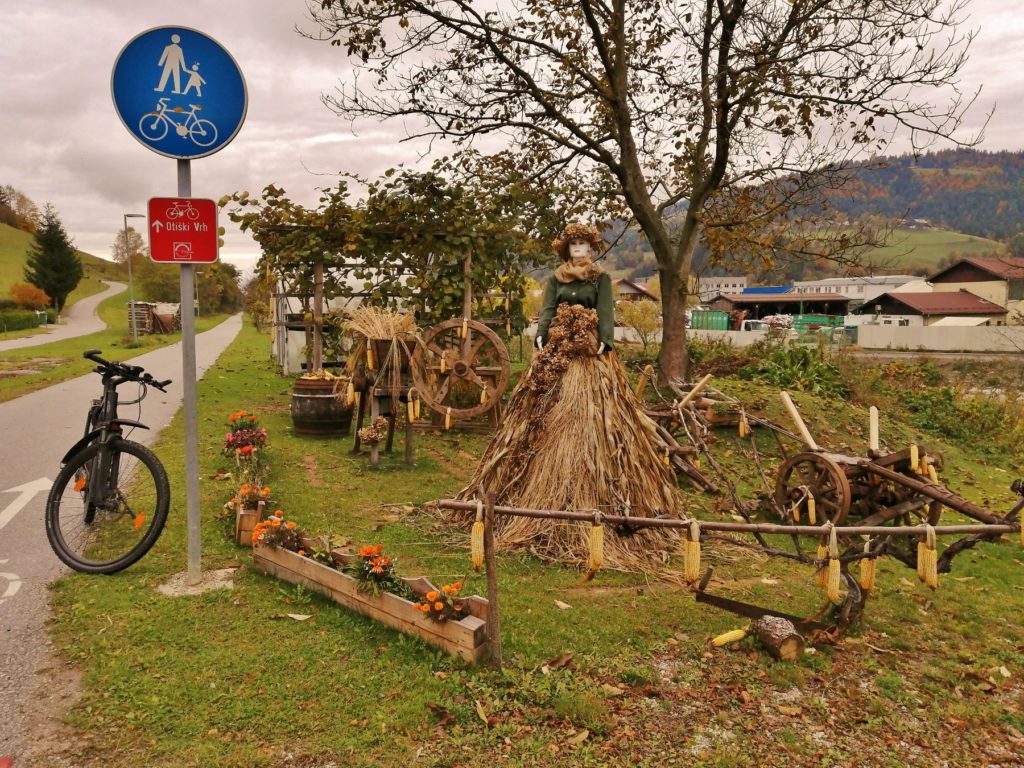 Madam jesen bei Pameče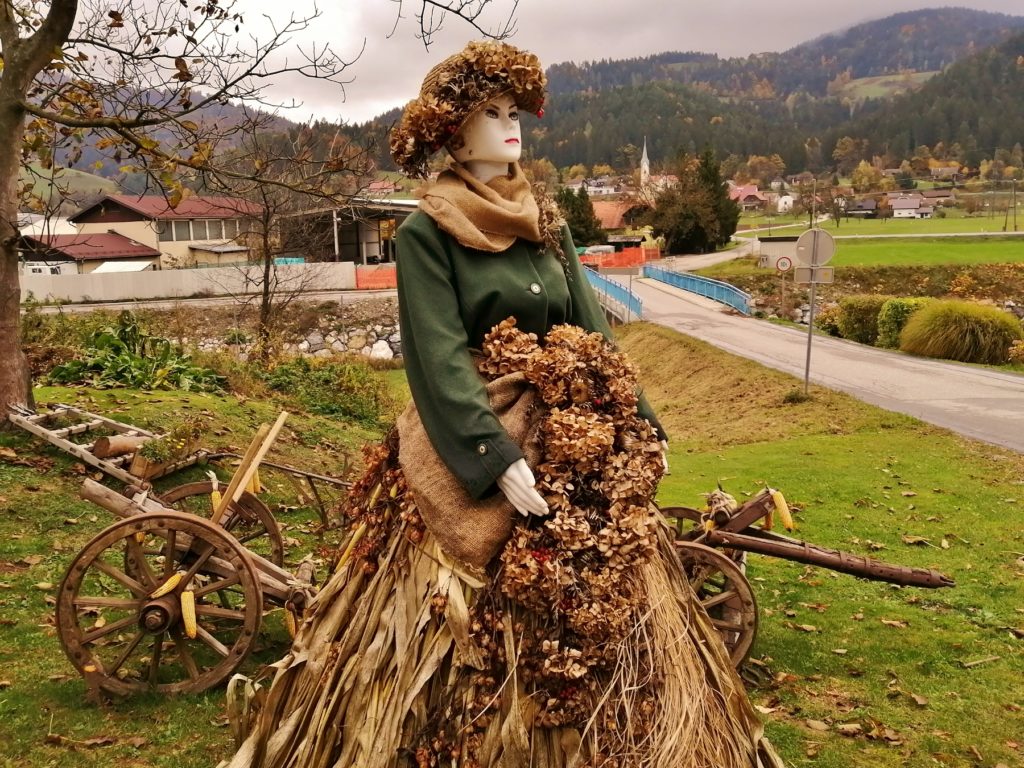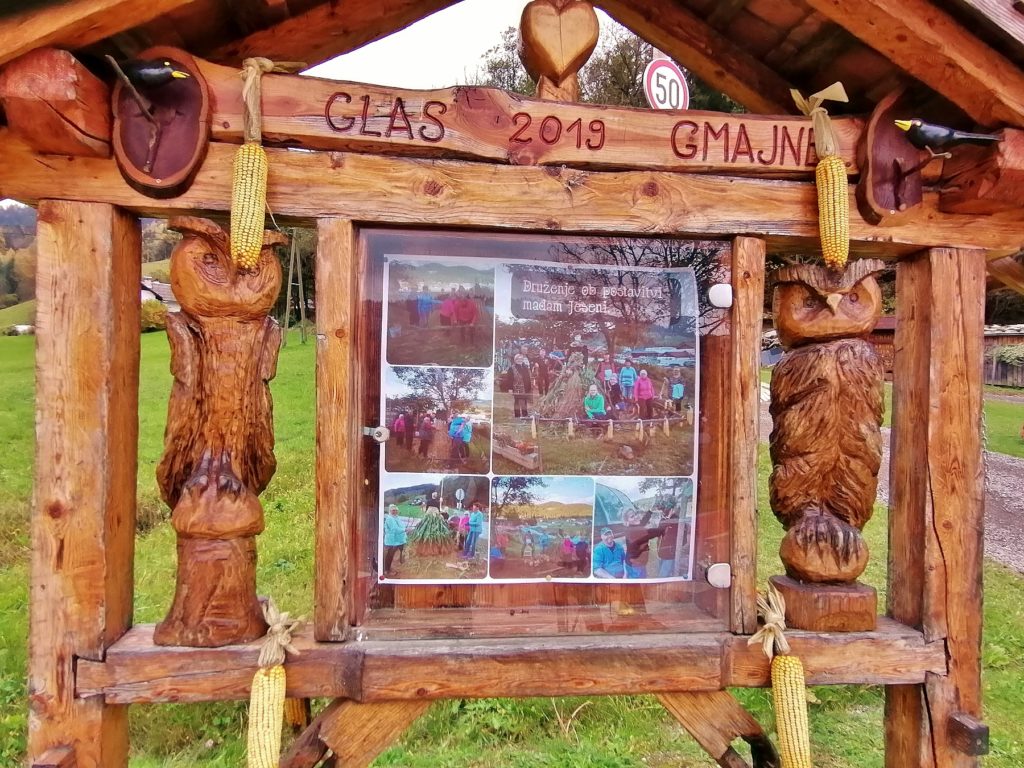 Stolz und Freude bei den Schöpfern dieser Herbstgöttin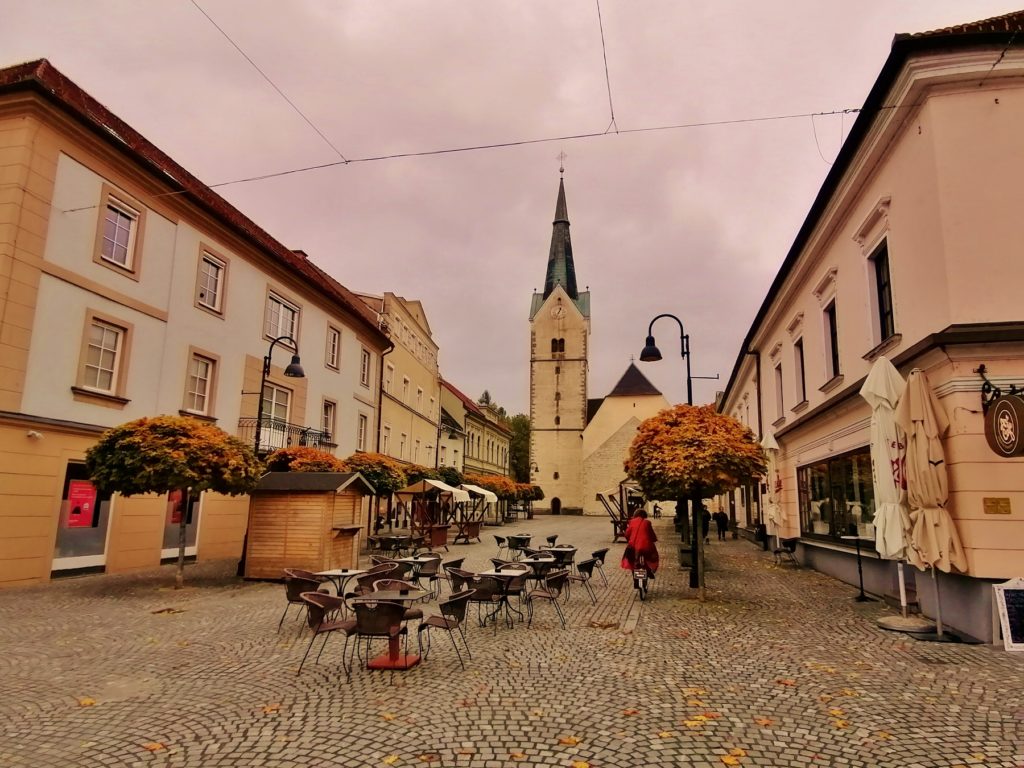 Ankunft in Slovenj Gradec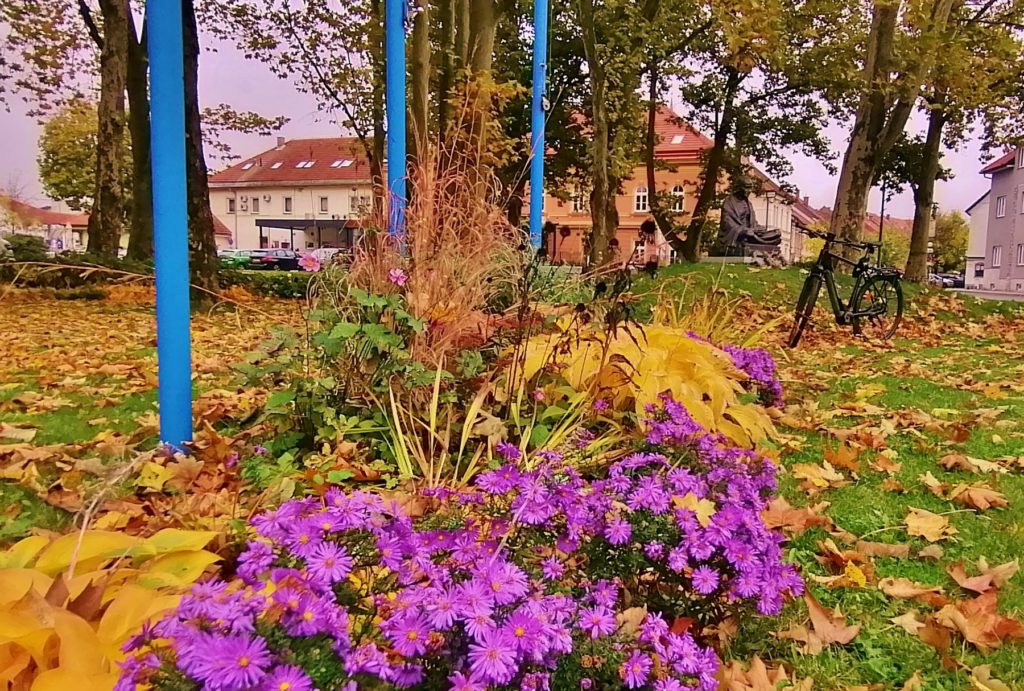 the Peace Messenger City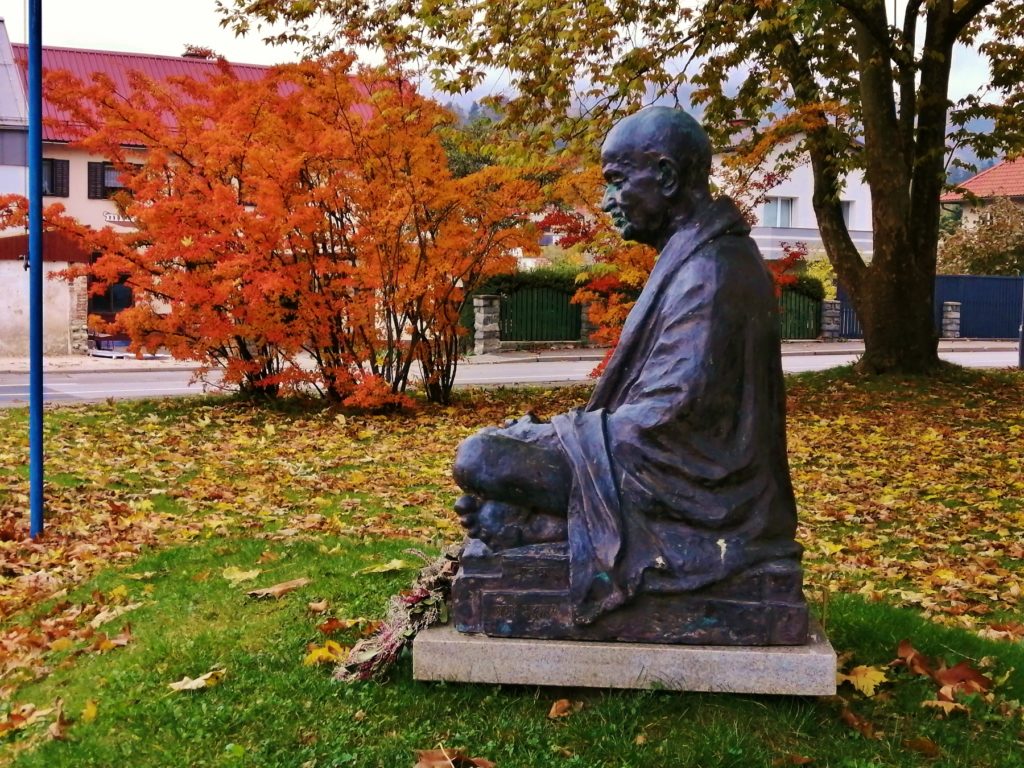 where Mahatma Gandhi is still hanging around, this time without glasses again
Welcome at the Koroška galerija likovnih umetnosti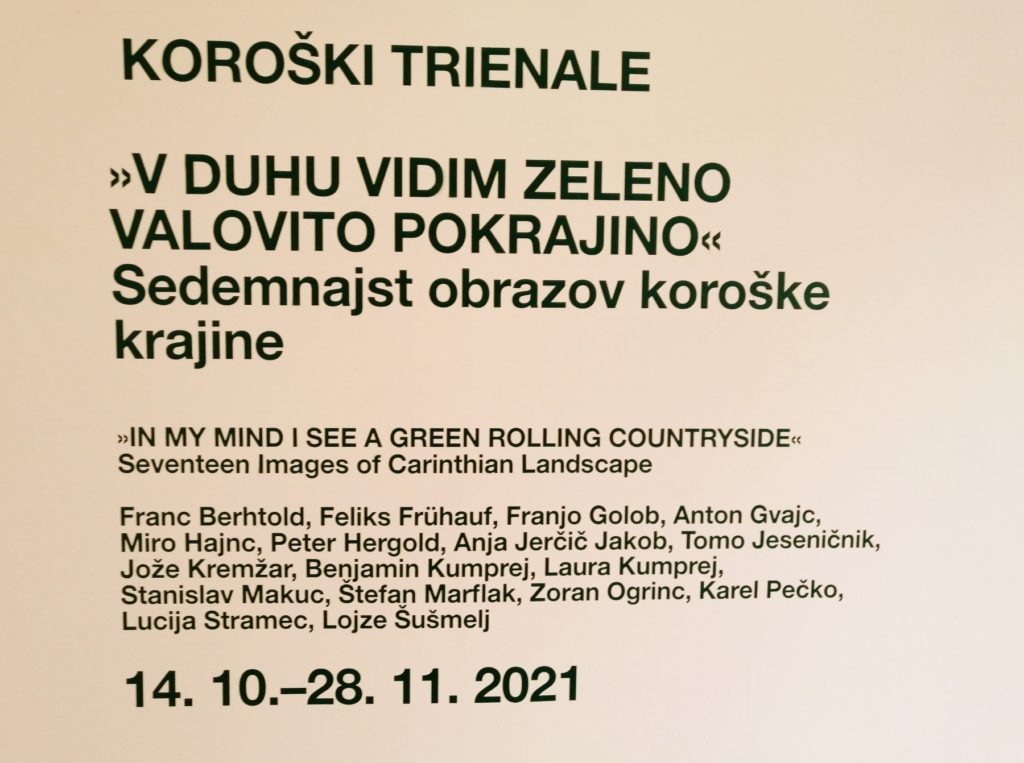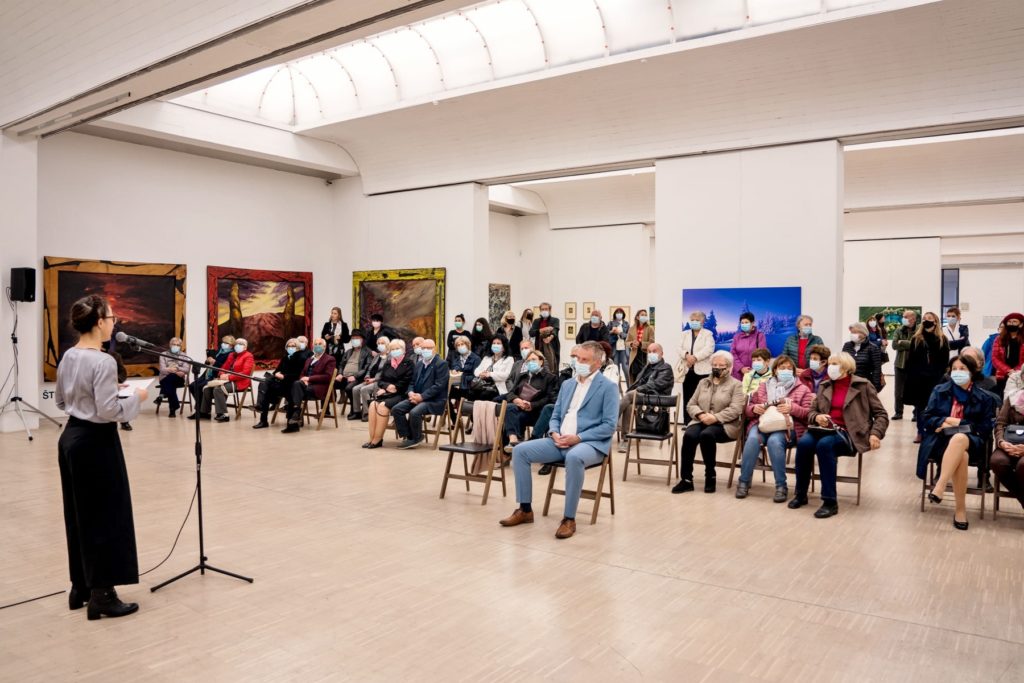 Eröffnung der Ausstellung am 14. Oktober 2021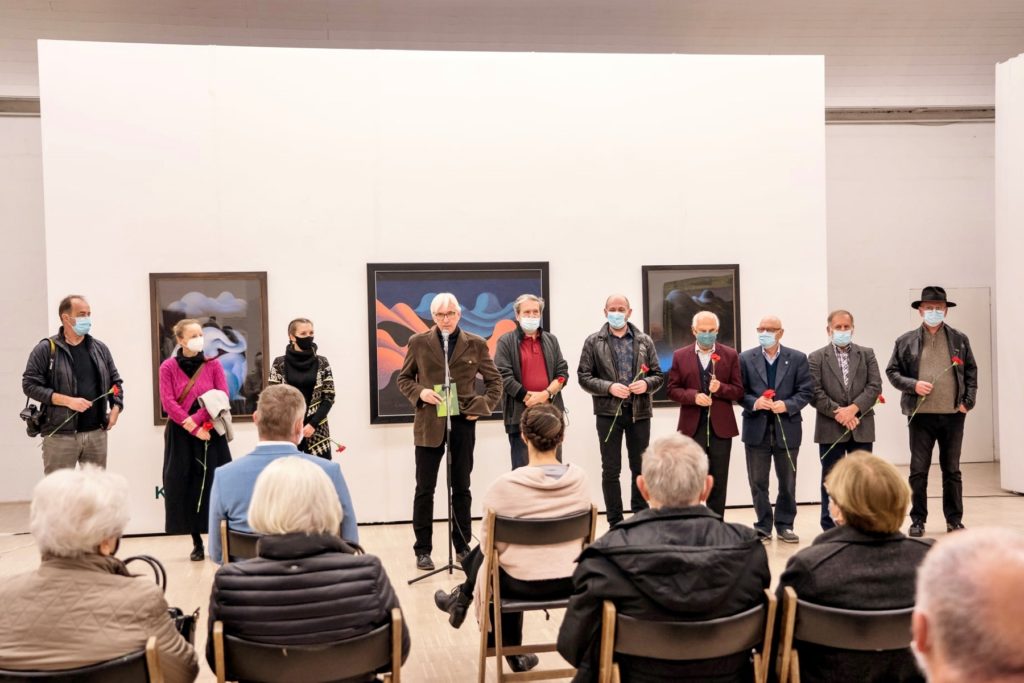 Begrüßung der teilnehmenden Artists: Franc Berhtold, Feliks Frühauf, Franjo Golob, Anton Gvajc, Miro Hajnc, Peter Hergold, Anja Jerčič Jakob, Tomo Jeseničnik, Jože Kremžar, Benjamin Kumprej, Laura Kumprej, Stanislav Makuc, Štefan Marflak, Zoran Ogrinc, Karel Pečko, Lucija Stramec, Lojze Šušmelj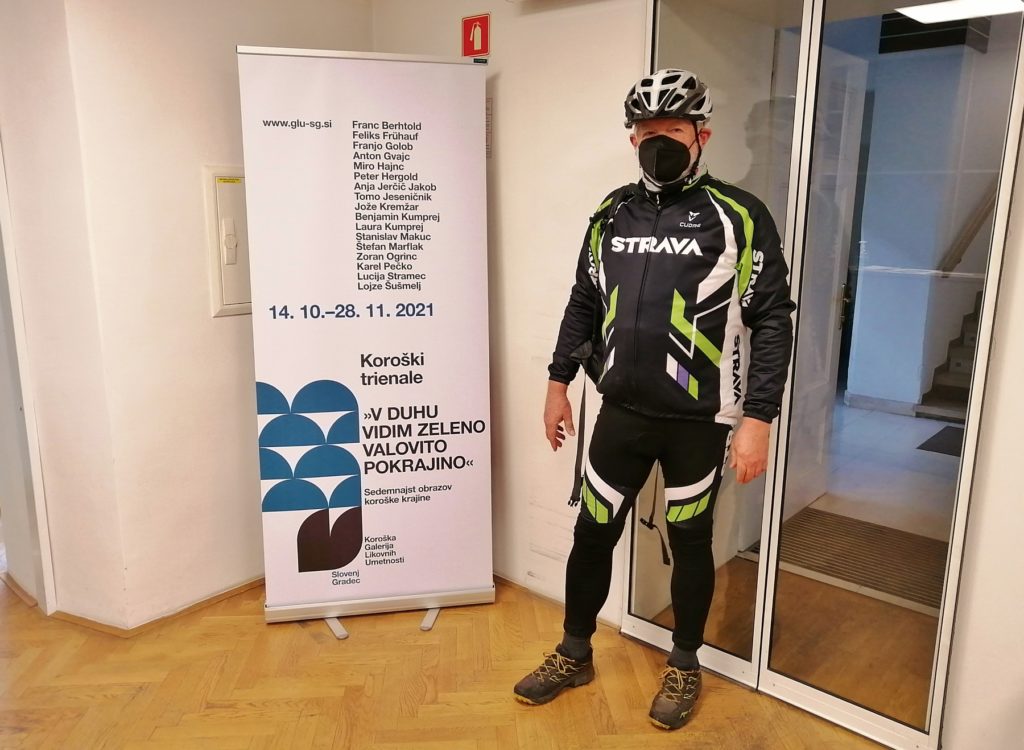 Besuch der Ausstellung
CARINTHIAN TRIENNIAL: »IN MY MIND I SEE A GREEN ROLLING COUNTRYSIDE«,
SEVENTEEN IMAGES OF CARINTHIAN LANDSCAPE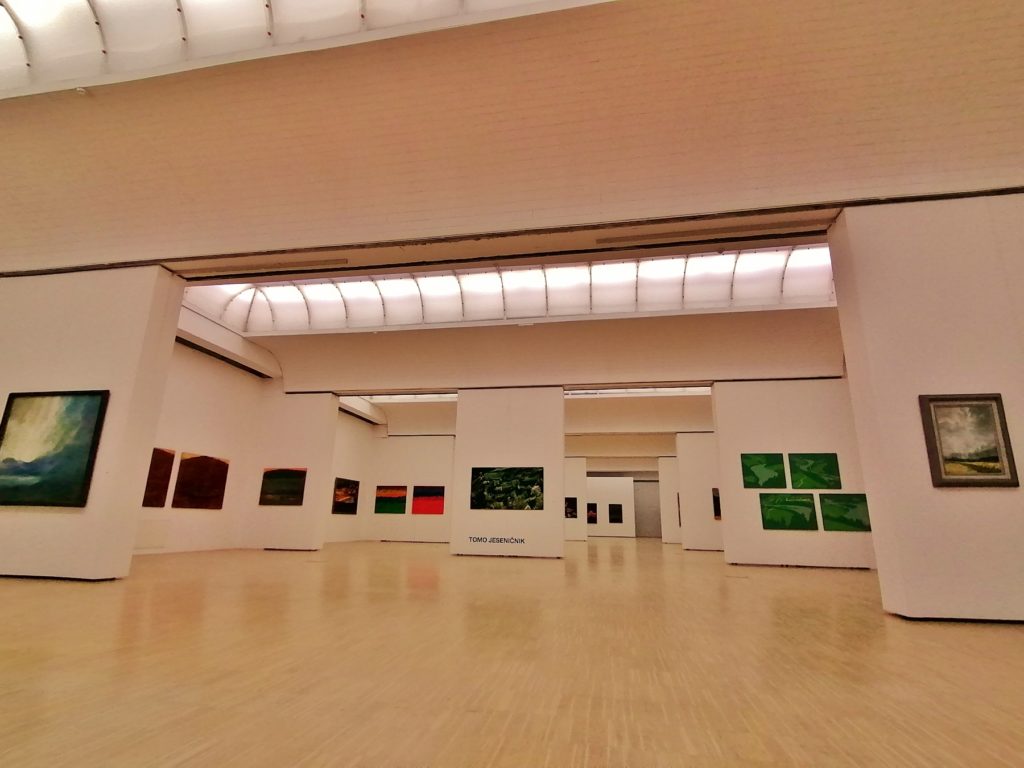 At the thematic overview exhibition of the so-called Carinthian Triennial, devoted in 2021 to a series of diverse images of our native landscape, we are presenting the works by those artists from Carinthia on the Slovenian side of the border who devoted a large segment of their oeuvre, in one way or another, to depictions of scenes from the three valleys of the Carinthian countryside. We sought artists who explore the characteristic and autochthonous Carinthian vedutas, but also those who try to pierce into the depths of symbolic discourse in this corner of the world near the Northern Slovenian border – either through artistically refined reminiscences of this land's sensuous rhythm by 'looking with eyes closed', or the fleeting flickers of creation that seem like talismans of personal emotional experience.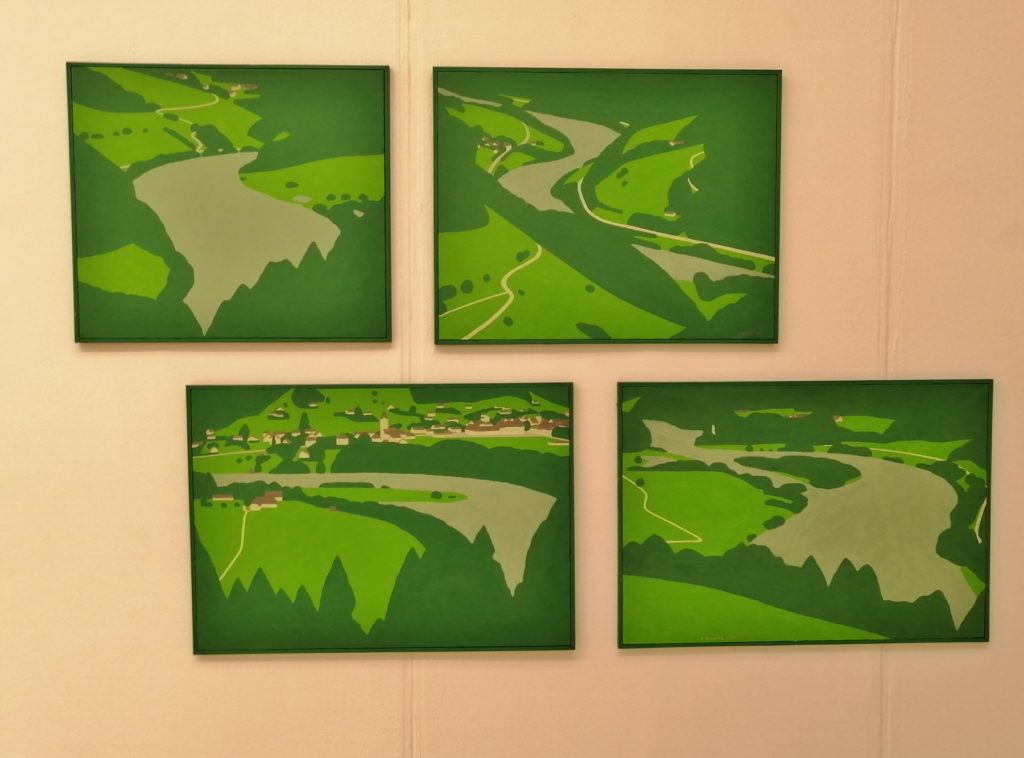 In my mind I see a green rolling countryside, encircled by Strojna and Peca, which ends
somewhere underneath the Obir massif. The murky and dense river Meža wate
rs this weary earth. Over there in that deserted corner, where even pain has withered away from life, right
beside the Meža river among the heaps of slag, my first aspirations for artistic development
arose. … In my heart and soul, this modest cottage of my youth, whose lifestyle goes against
the flatulent 'educated' way of life, has always accompanied me. In my works, I never aimed
to achieve perfection on the technical side; what mattered much more was the spiritual
expression of the life of an object I was painting. A yearning from the darkness to the light–
this is the only way I know how to explain my motivation for strong colours. The blood-red
colours of the painting 'Ribniško selo', coated in the tonal depth of a shaded life–that soil,
which was brimming with iron ore, where once furnaces burnt that are by today in ashes, that
is where my palette of love and emotion is taken from … the Meža valley.
(Artists about themselves and their work, From a conversation with the painter Franc Golob for the
exhibition 'Brazde', The Maribor evening newspaper 'Jutra', 12. XII. 1939)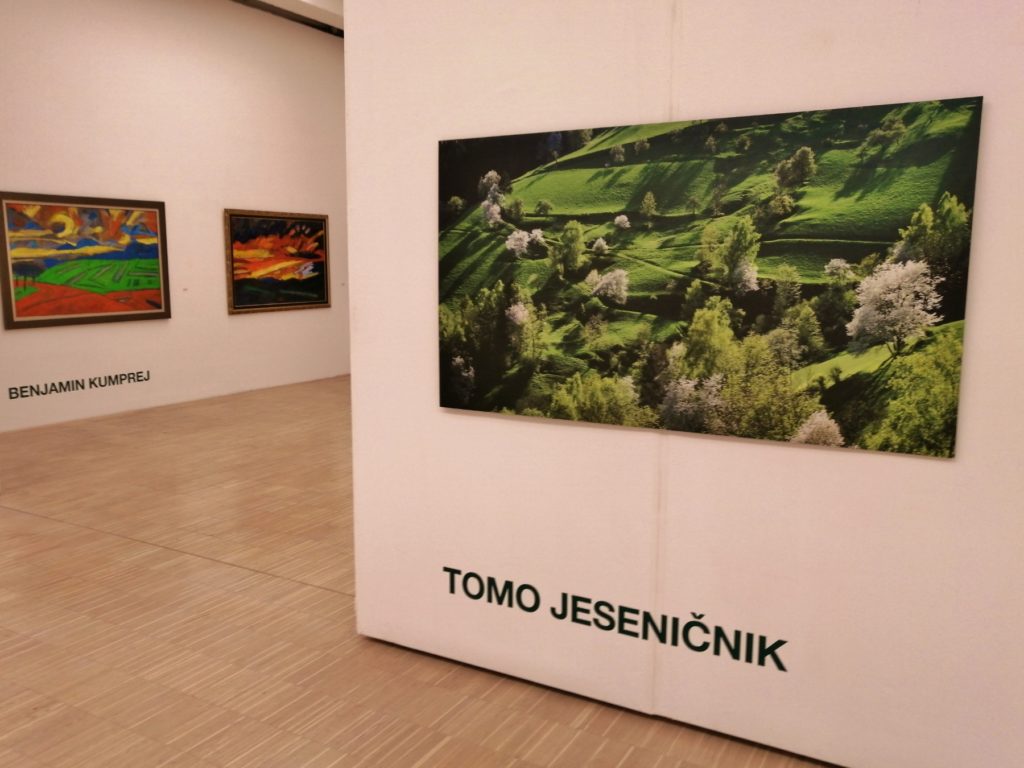 The ambience of seasons by Tomo Jeseničnik
This rollercoaster of personal experience of Carinthian landscapes by selected local painters was
intentionally centred around the lyrical photographic views of the four seasons by one of the most
recognizable and valued art photographers in Slovenia at the moment. He has already joined the pleiad
of the most successful and most significant artists in the field of visual art and culture in Carinthia, and
his authorial contribution to the design of visual materials, which does an excellent job at promoting
these lands, is likewise indispensable. With their close shots, the play of light and shadow, and the suggestive colour atmosphere, the almost randomly chosen photographs from his huge, nearly unfathomable oeuvre, reveal the less common views towards shaded headlands and dark hollows, to riverbanks and streams, and plains covered by a thick snow blanket, and from there to secluded farms and their self-sufficient independence, from which this idiosyncratic 'philosophy of everyday life' grows.
Distinctive as it is in Carinthia, it can be and it is captured by the subjective gaze in the works that we
have selected for the thematic exhibition of the Carinthian Triennial, devoted in 2021 to a series of
diverse images of our native landscape.
Curator Marko Košan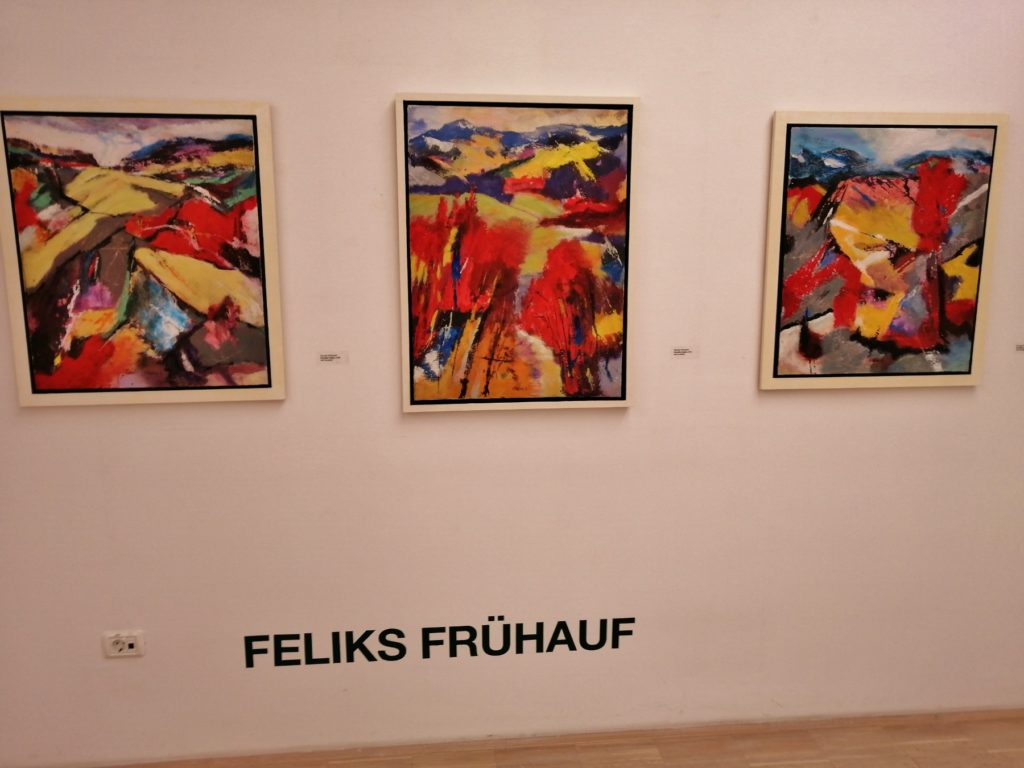 The search for abstract patterns in Carinthian land scape in Feliks Frühauf's work is the concept
of an almost immeasurable series created by perhaps the most cultivated painter among the many
members of the Association of Carinthian Artists. With his steady hand and skilful eye, accustomed to
artistic observation, he follows a code of landscape art that is immersed in hedonistic colourful
illumination, again and again daringly trying to escape the conventional and stuffy landscape imagery
that had gotten old ages ago.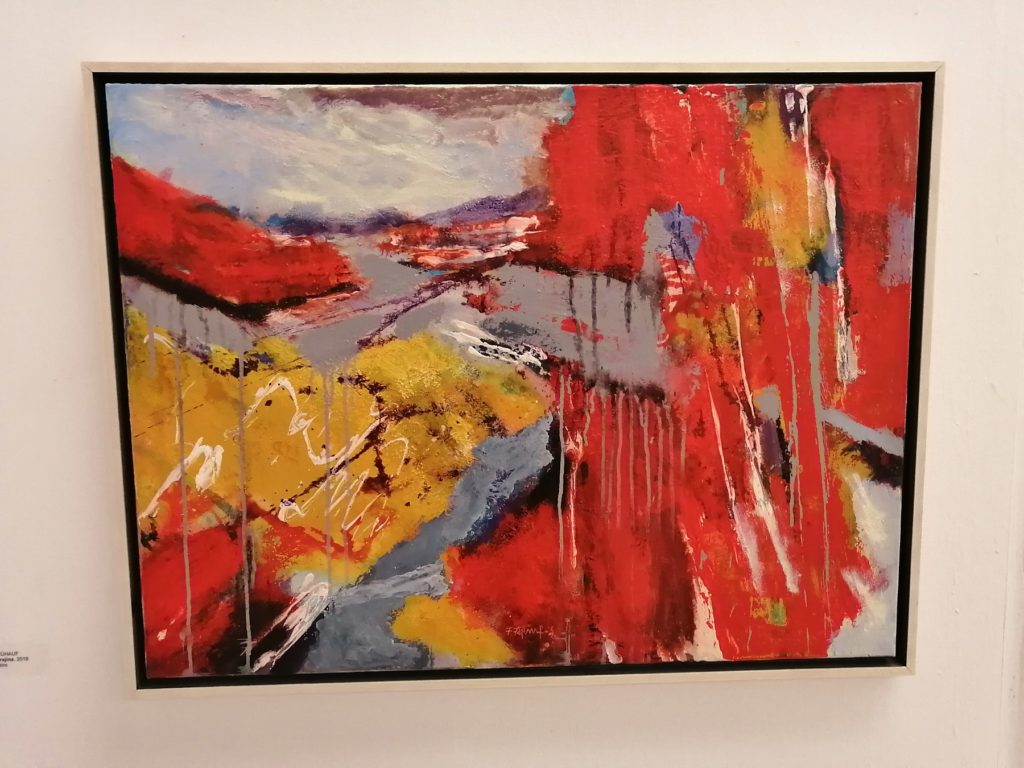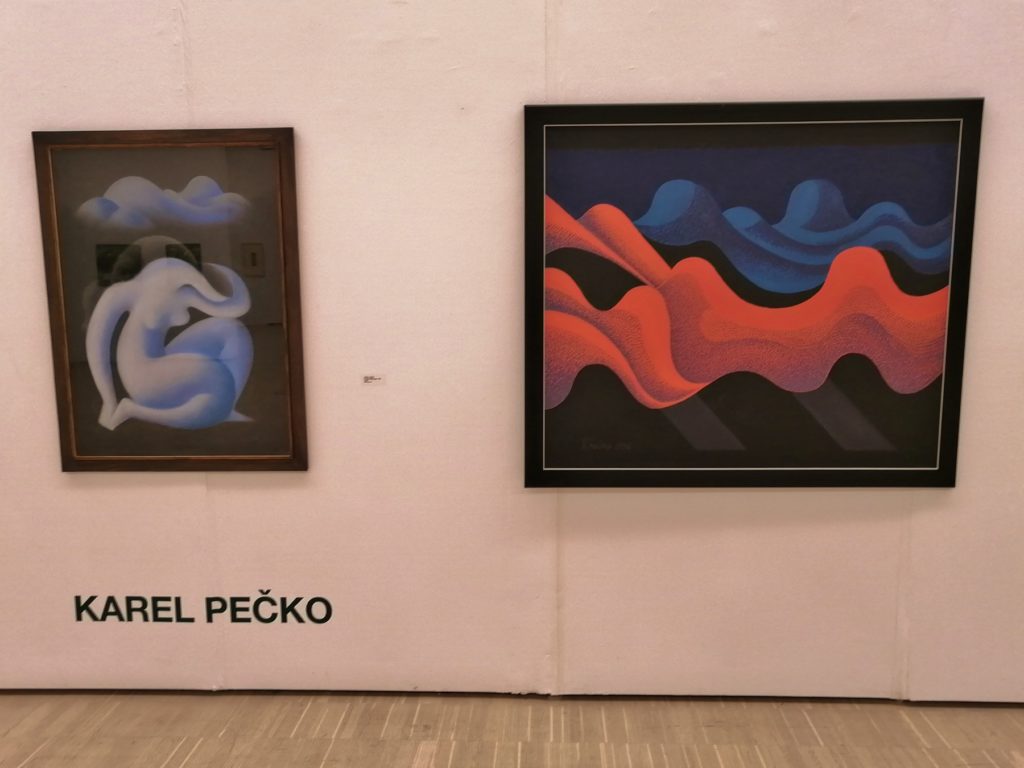 The eternal veduta of Carinthian landscape by Karel Pečko coalesced into the iconic image of Mount
St. Ursula, the last peak of the Karawanks to the East. The mighty solitary "Mountain", as the locals call
it simply, since it dominates the world of Carinthia, was composed based on the four premises of his
artistic philosophy, thus underlining the elementary principles of art: the unity of rhythm, shape, colour
and harmony. He thus adapted this protruding veduta highlight of the Carinthian landscape to himself
and not vice versa. He sought an ideal form with which to express the monumental feeling of his
homeland; he found it in the symbolic peak of Carinthia and turned it into a never quite finished model
of a subdued and romantic visual fantasy.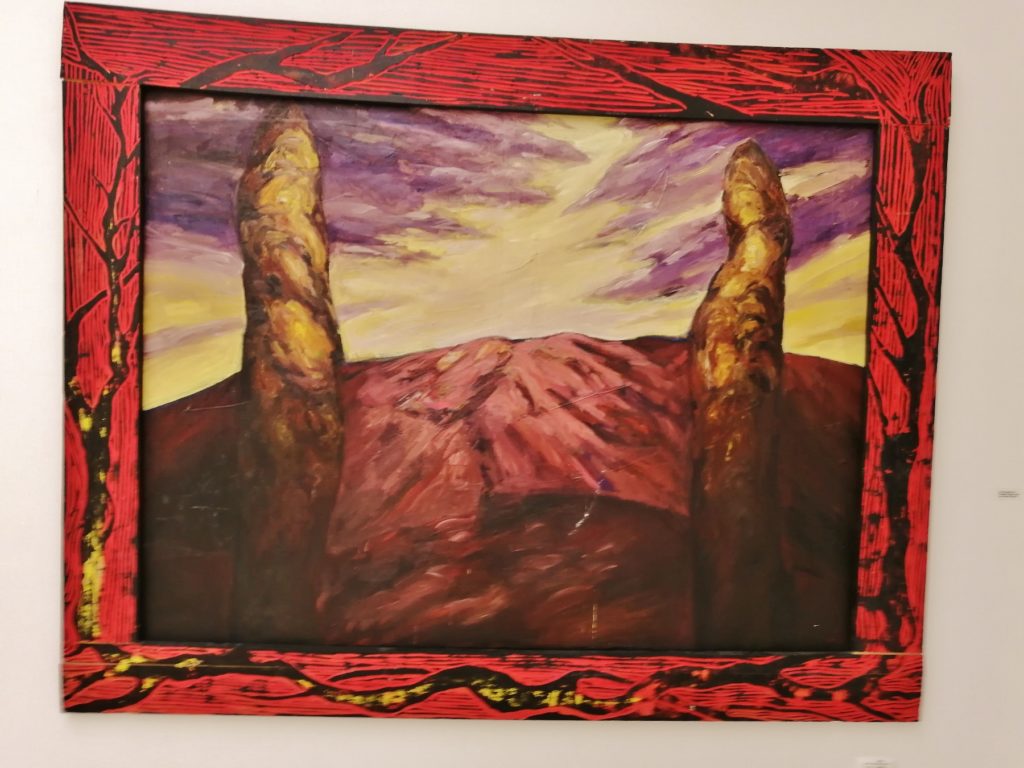 The archetypical vision of Carinthian landscape by Štefan Marflak had reached its peak in the years 1991 and 1992, when he filled his large-scale canvasses with a fascinating psychic discourse to create dreamlike, hallucinatory sceneries. The symbolic mysteriousness of these 'atavistically' decelerated images is imbued with melancholy and numb memory. Although the images seem ecstatic at first sight, they are in fact lyrically gloomy, especially since they already anticipate Marflak's later elegiac painting meditation, which to this day again and again proves him to be an inveterate trailblazer of the archetypical stories in Carinthian identity.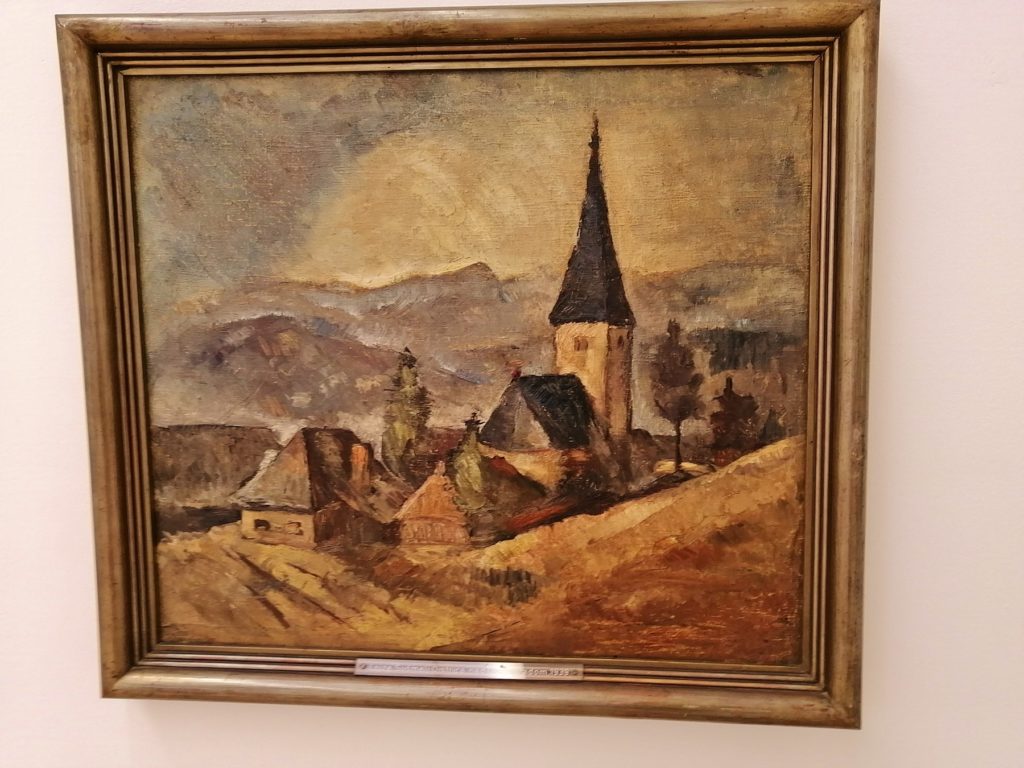 Ojstrica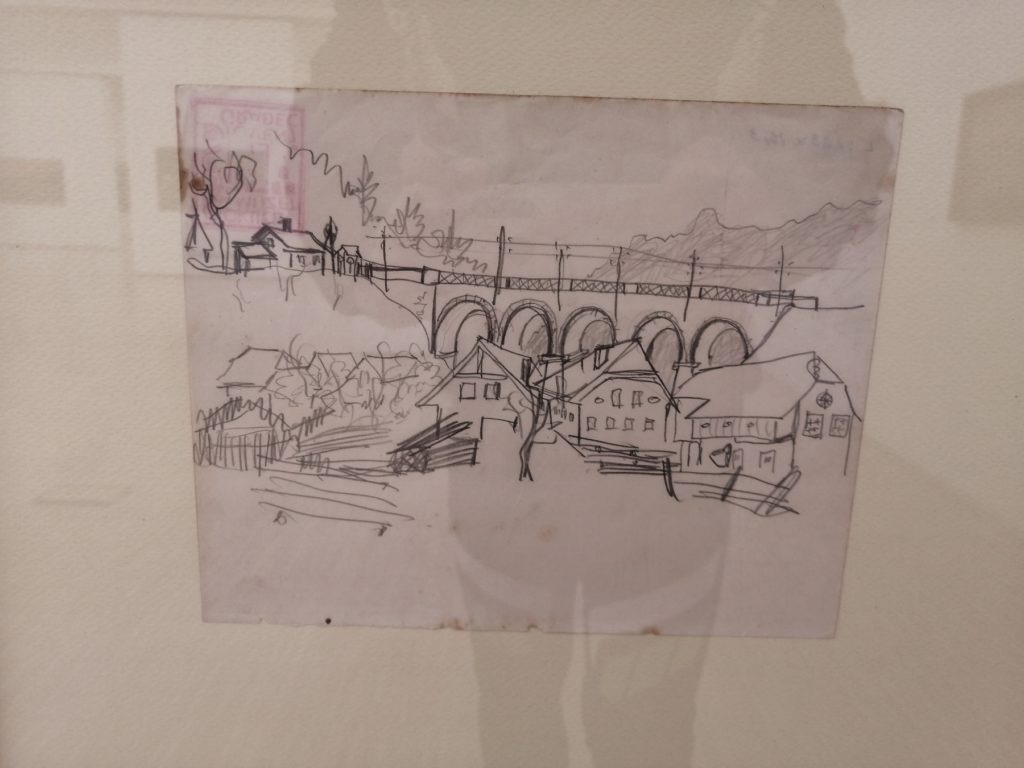 Prevalje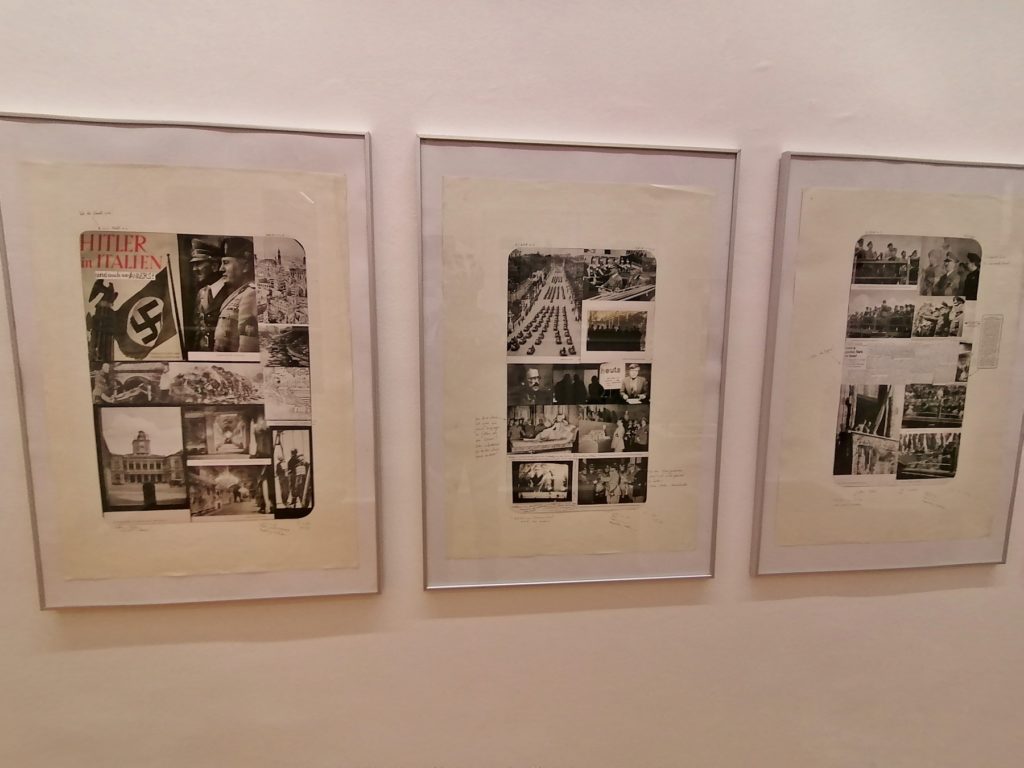 Ein Raum der Koroška galerija likovnih umetnosti zeigt das Thema "Hitler in Italien"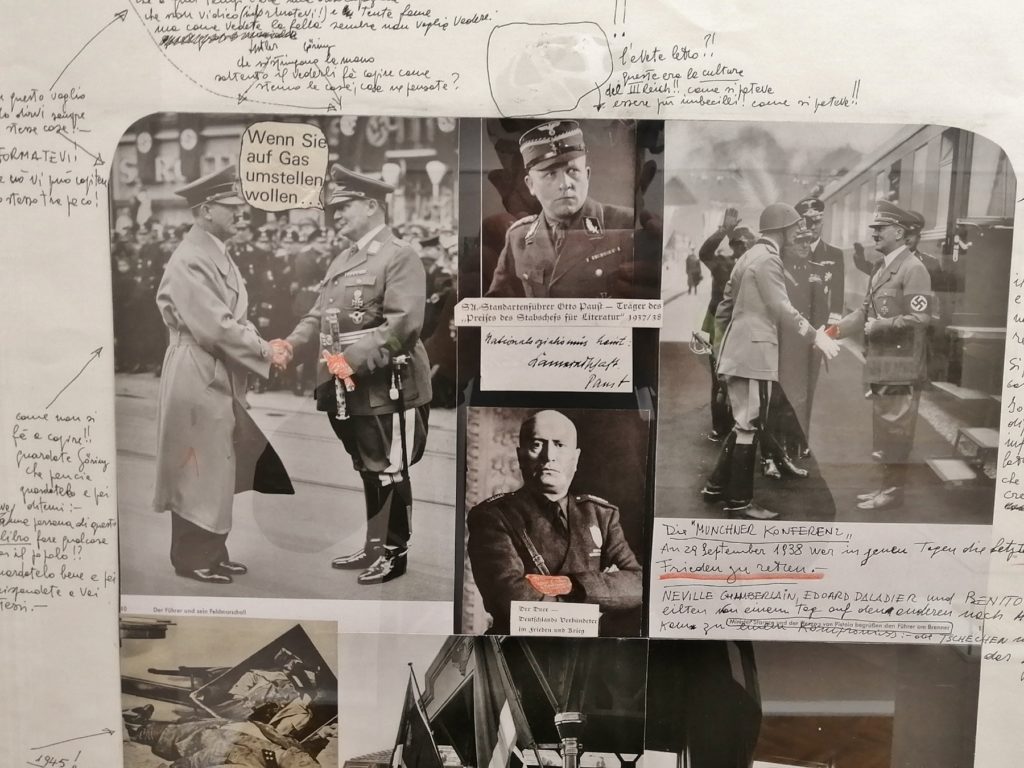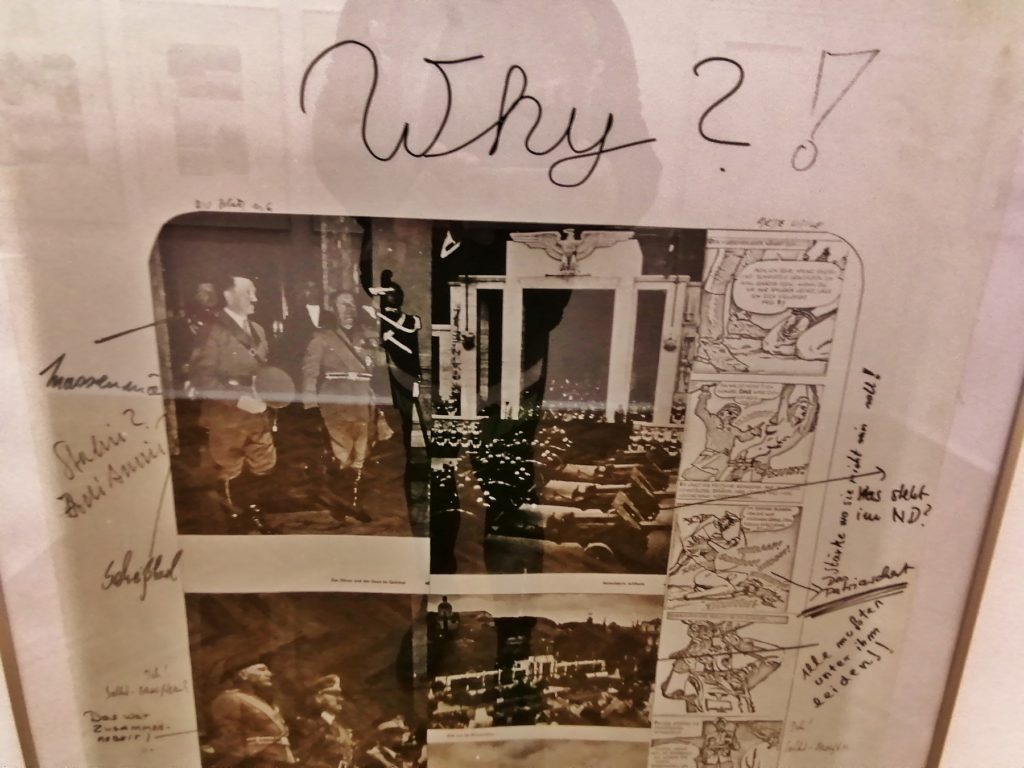 Why?!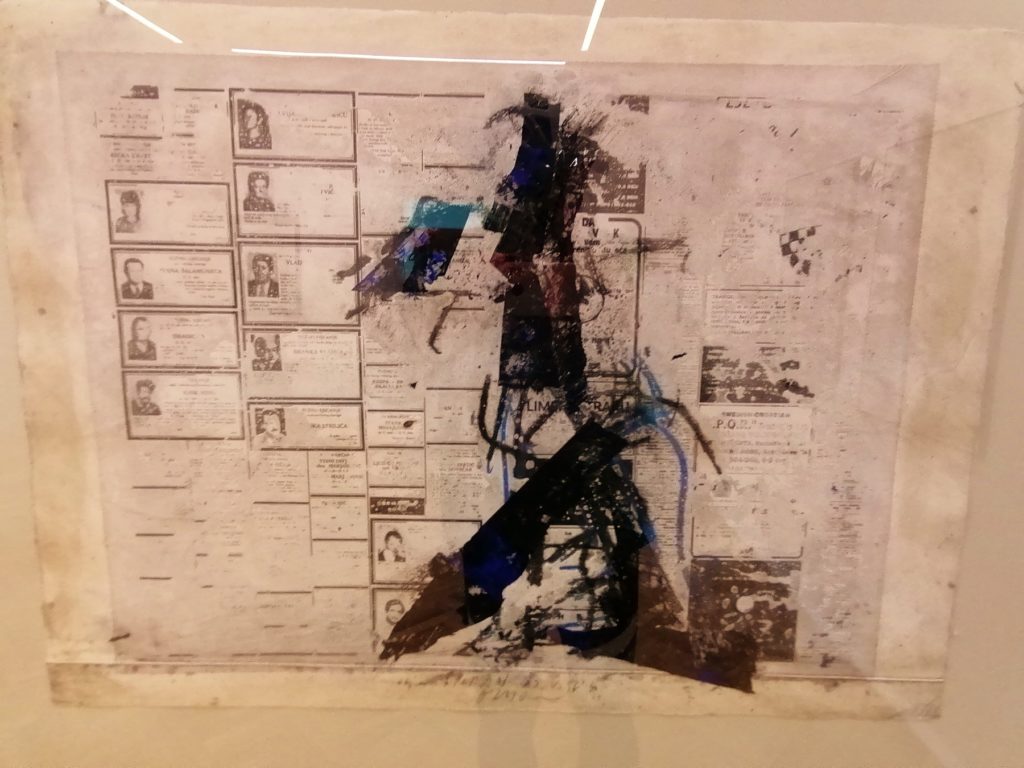 Ein weiterer Teil der Ausstellung ist dem Kärntner Künstler Valentin Oman gewidmet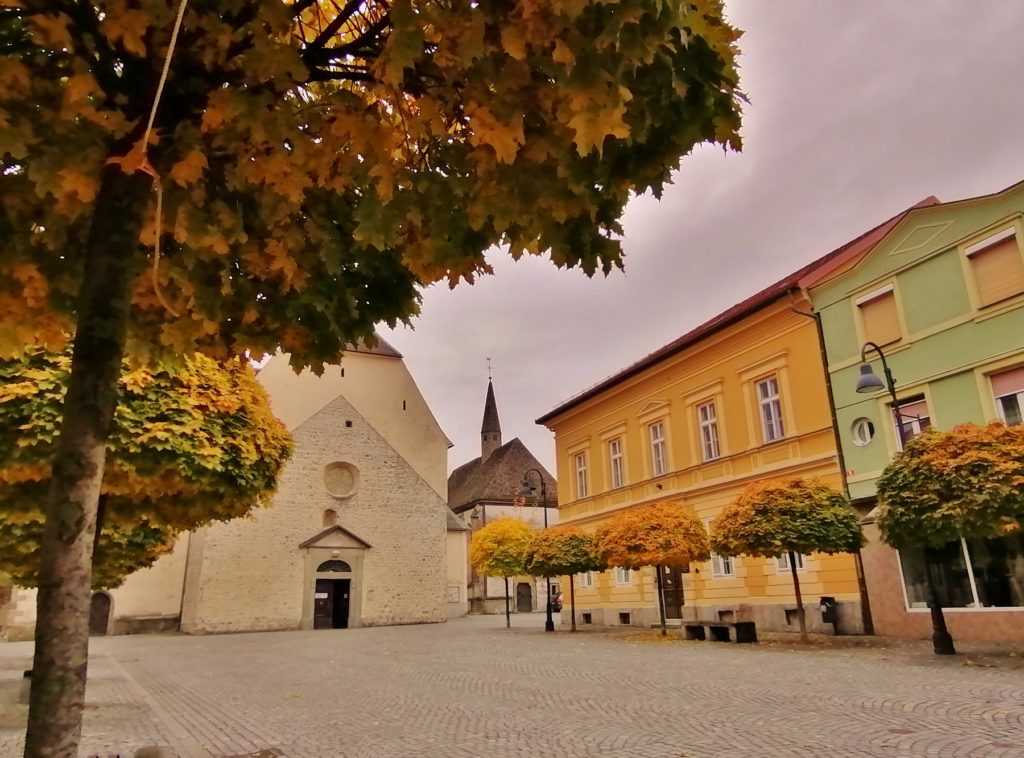 Slovenj Gradec im Oktober 2021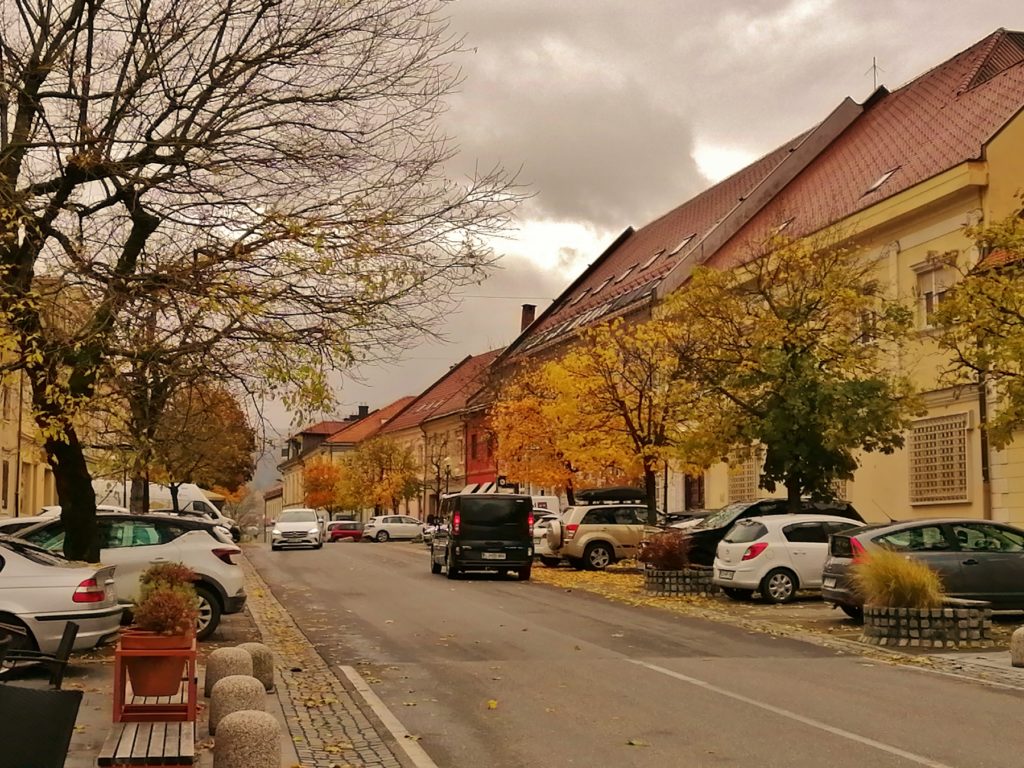 CARINTHIAN TRIENNIAL_EXHIBITION TEXT
https://www.glu-sg.si/wp-content/plugins/pdfjs-viewer-shortcode-bma/pdfjs/web/viewer.php?file=encdaHR0cHM6Ly93d3cuZ2x1LXNnLnNpL3dwLWNvbnRlbnQvdXBsb2Fkcy8yMDIxLzAyL0NBUklOVEhJQU4tVFJJRU5OSUFMX0VYSElCSVRJT04tVEVYVC5wZGY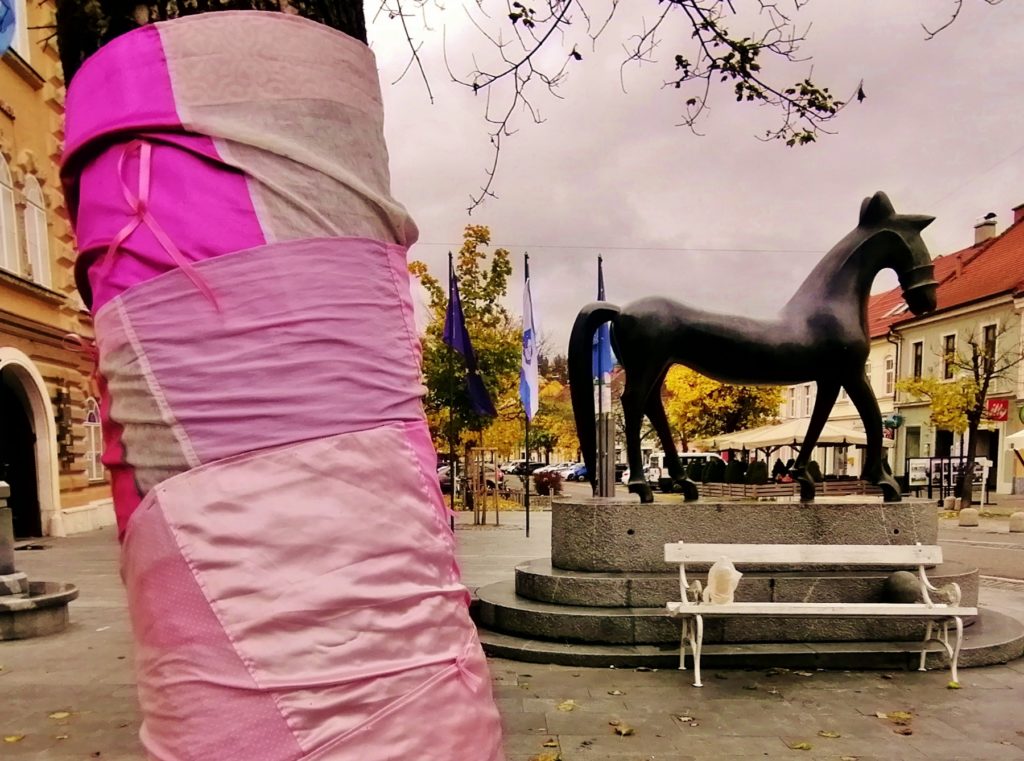 The world of Carinthia, crammed between the broad Pohorje massif and the extreme edges of the
Karawanks range, is composed of characteristic gently sloping ridges and rounded hills, as well as steep
dells that cut into the green bands of forests, above which a spectator looking up from the valley below
can often catch merely glimpses of the sky. The softness of the countryside that only hardens in the
grey rocky masses atop Mount St. Ursula and Peca is equally striking both when irradiated by the
summer sun, which absorbs the plentiful morning dew already early in the morning, or in wintertime,
when it is inaudibly covered by a thick winter blanket. It is unpredictable and mysterious in the spring
and autumn, when wild torrential waters coming from the numerous springs in the forests high above
cut through it, carving narrow hollows from which the fogs are creeping all until midday as the sun in the
valley warms up the meadows and fields.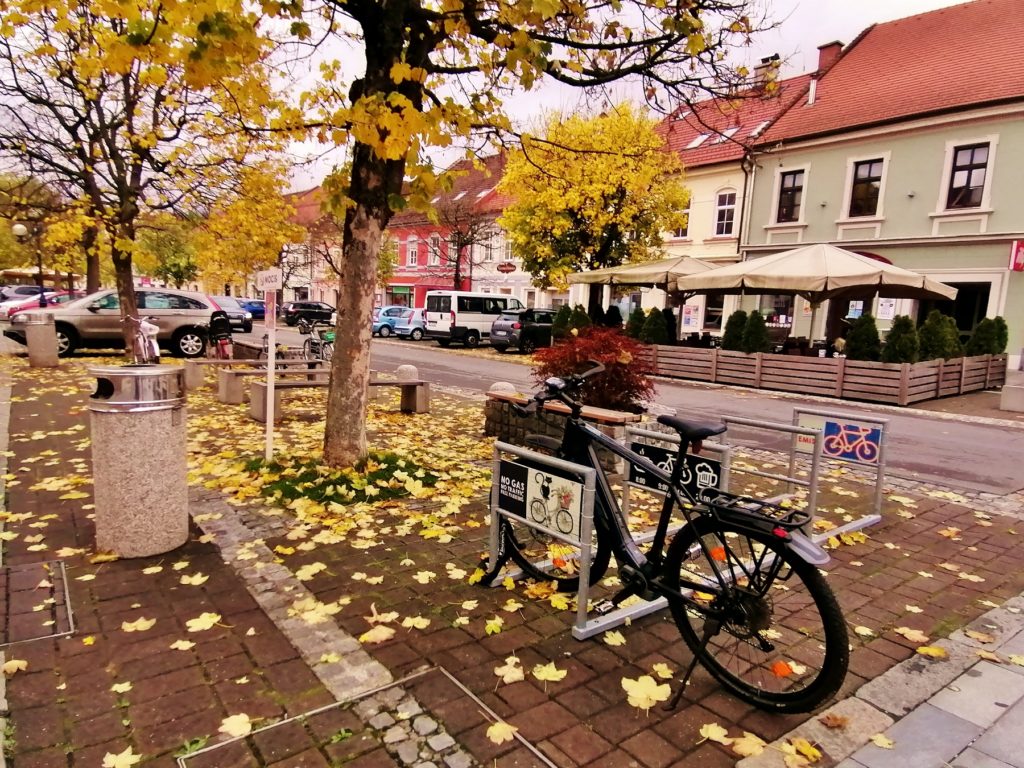 Ride your bike
Save the world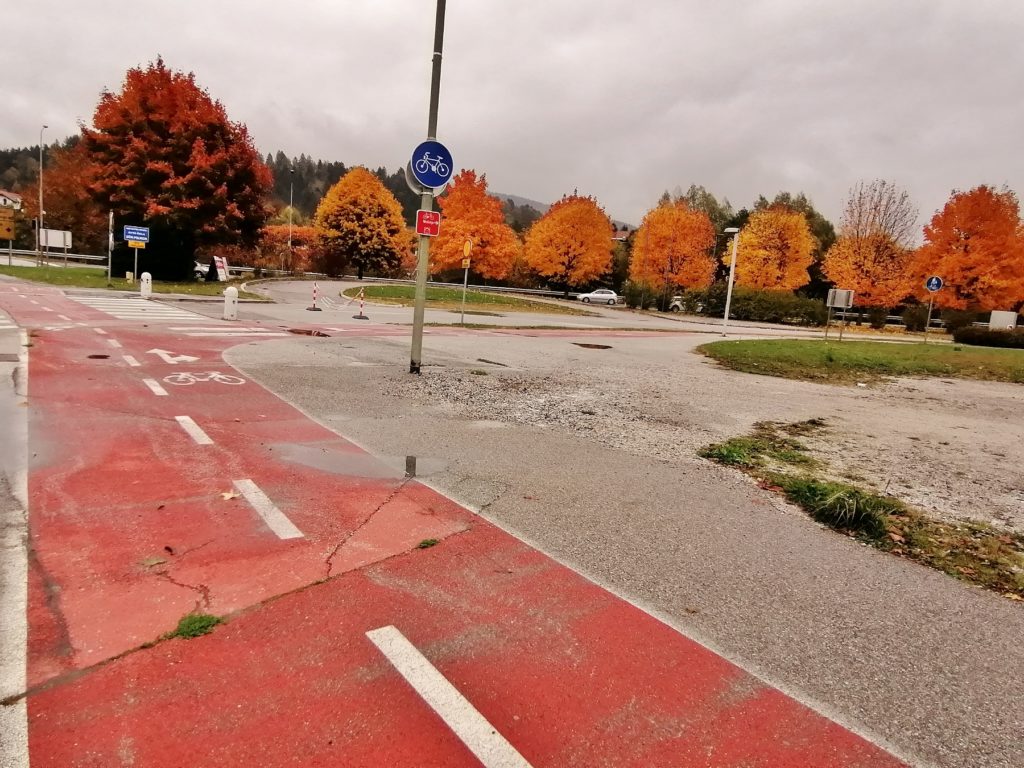 Cycling from Slovenj Gradec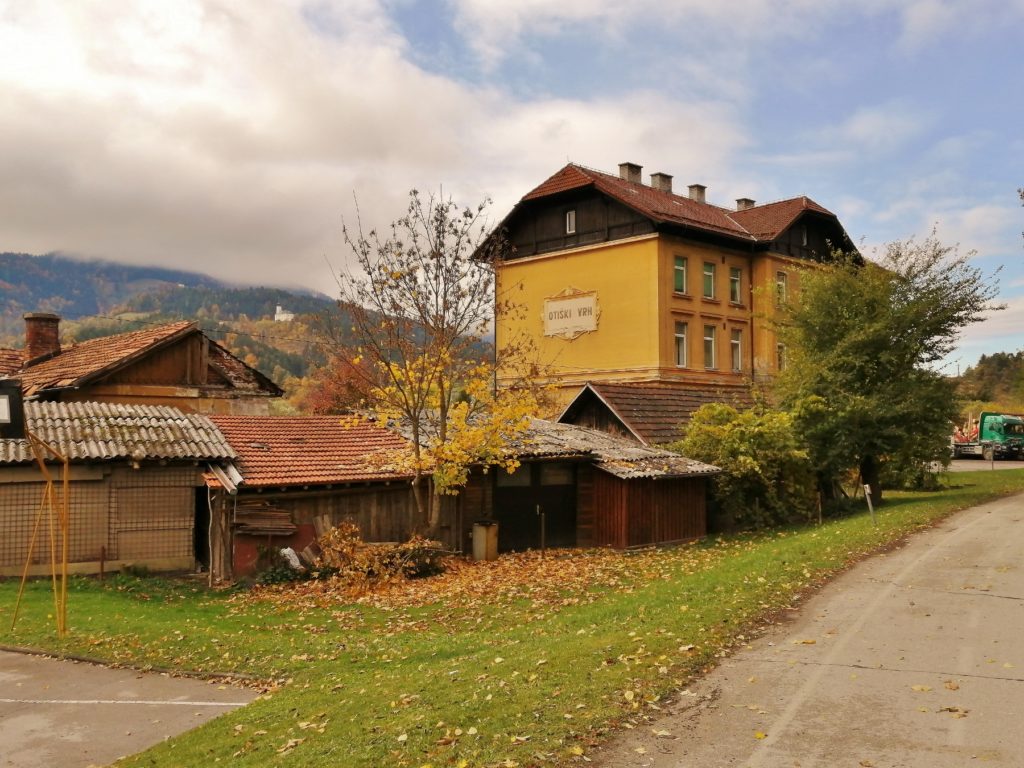 via Otiški Vrh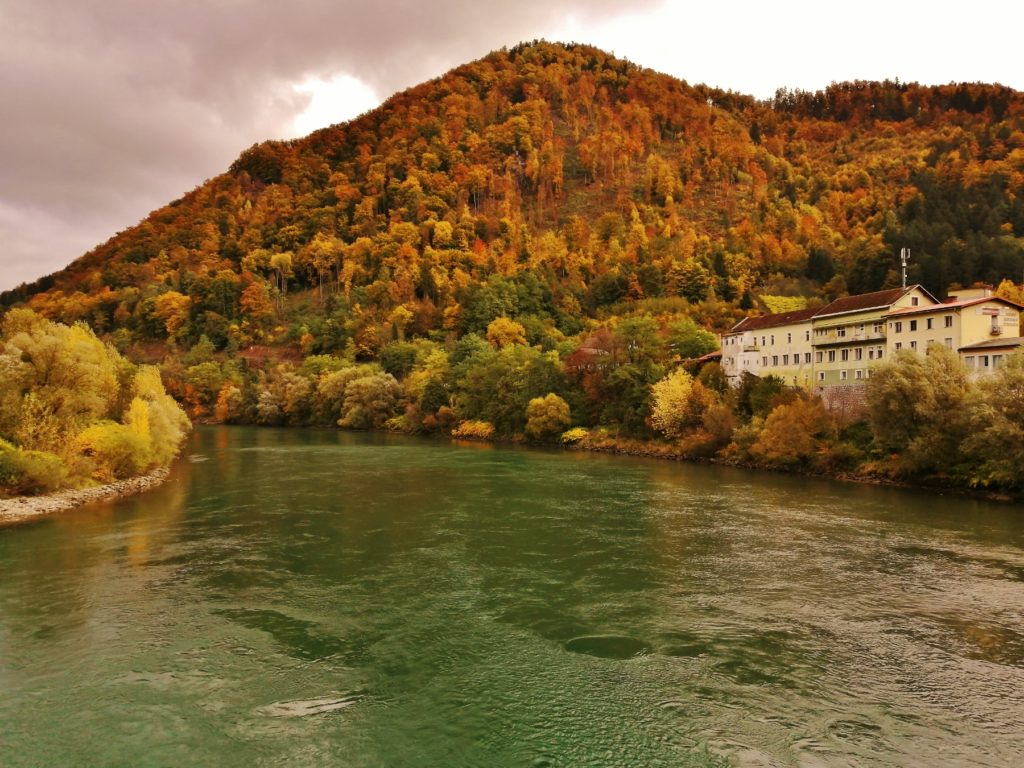 to Dravograd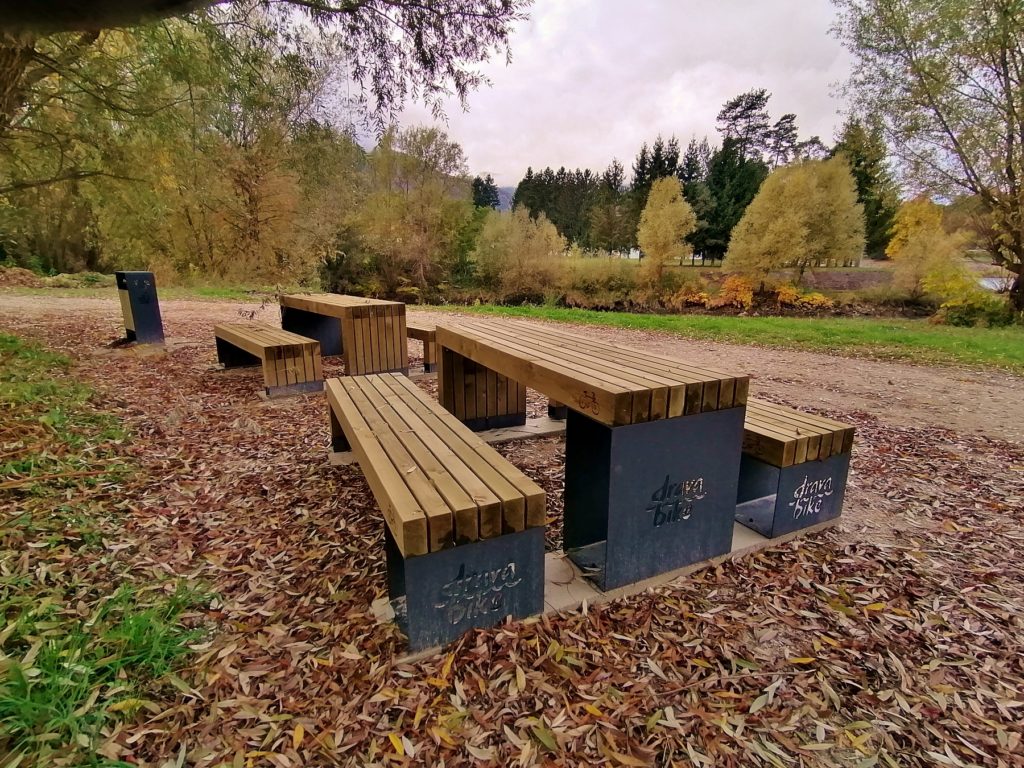 Drava Bike – Neuer Rastplatz am Drauradweg in Dravograd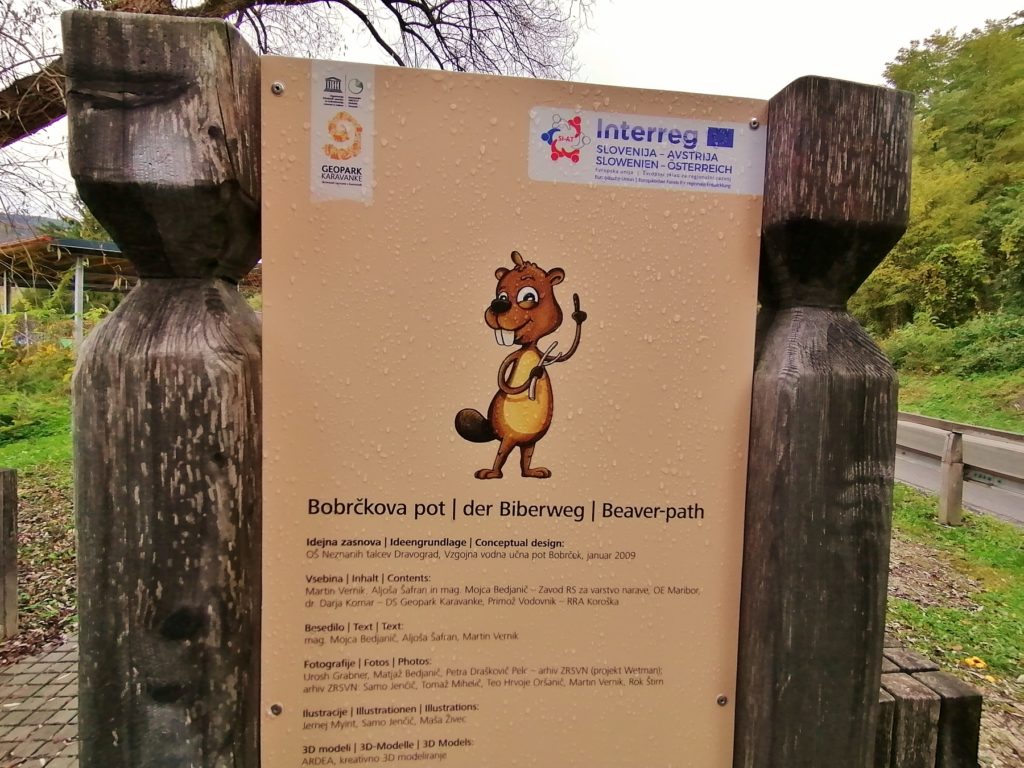 Geopark Karawanken/Karawanke: Bobrčkova pot/Biberweg/Beaver path in Dravograd/Črneče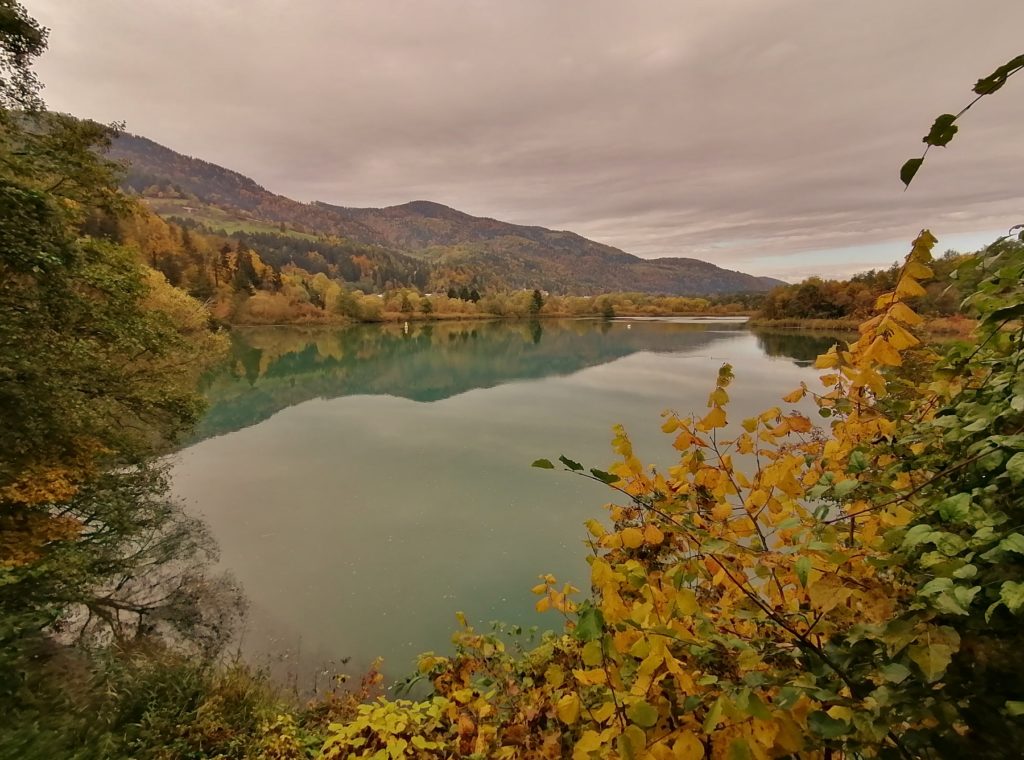 am Davograijsko Jezero / Dravograder See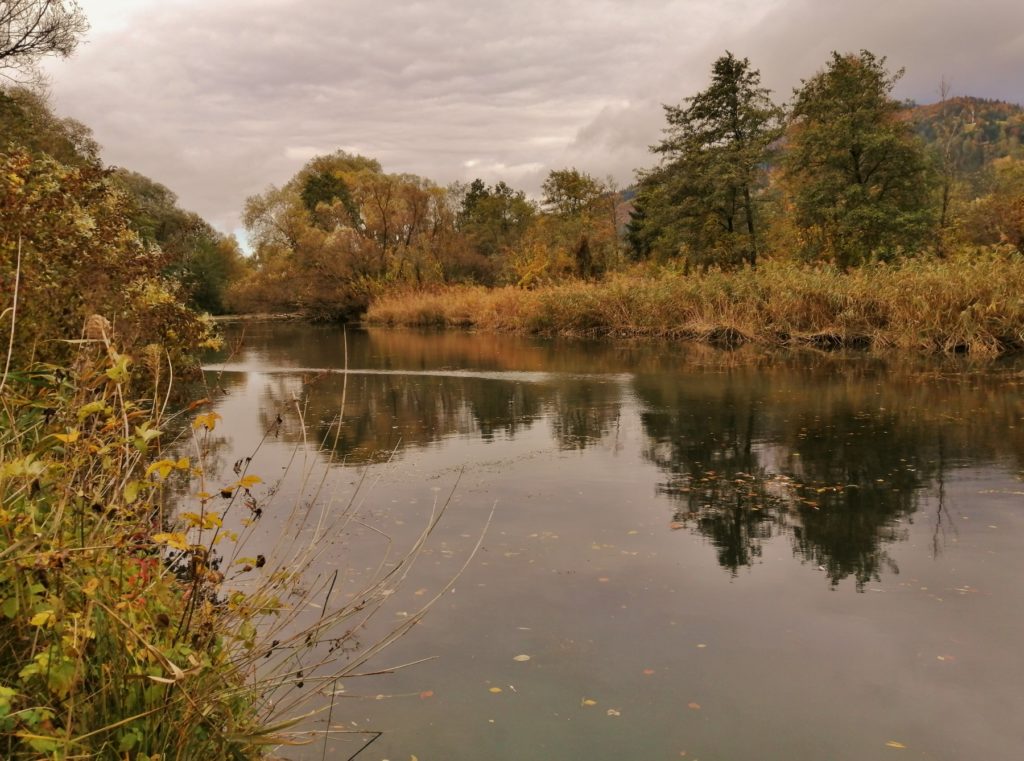 Neues Interreg Projekt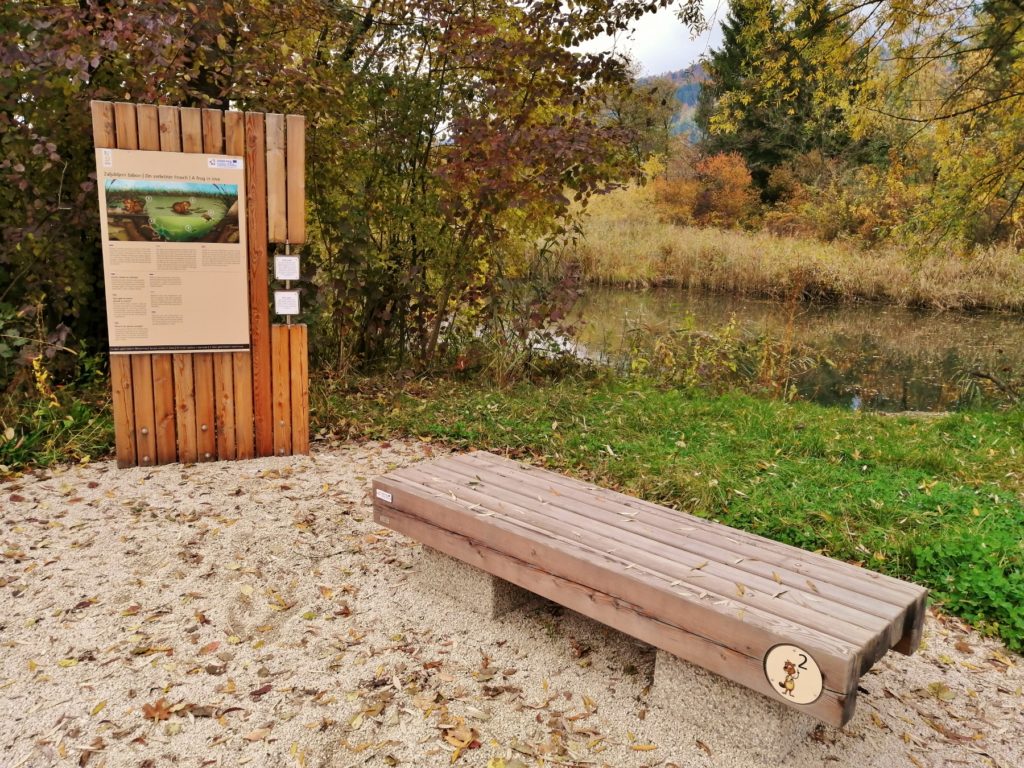 Ein verliebter Frosch – A frog in love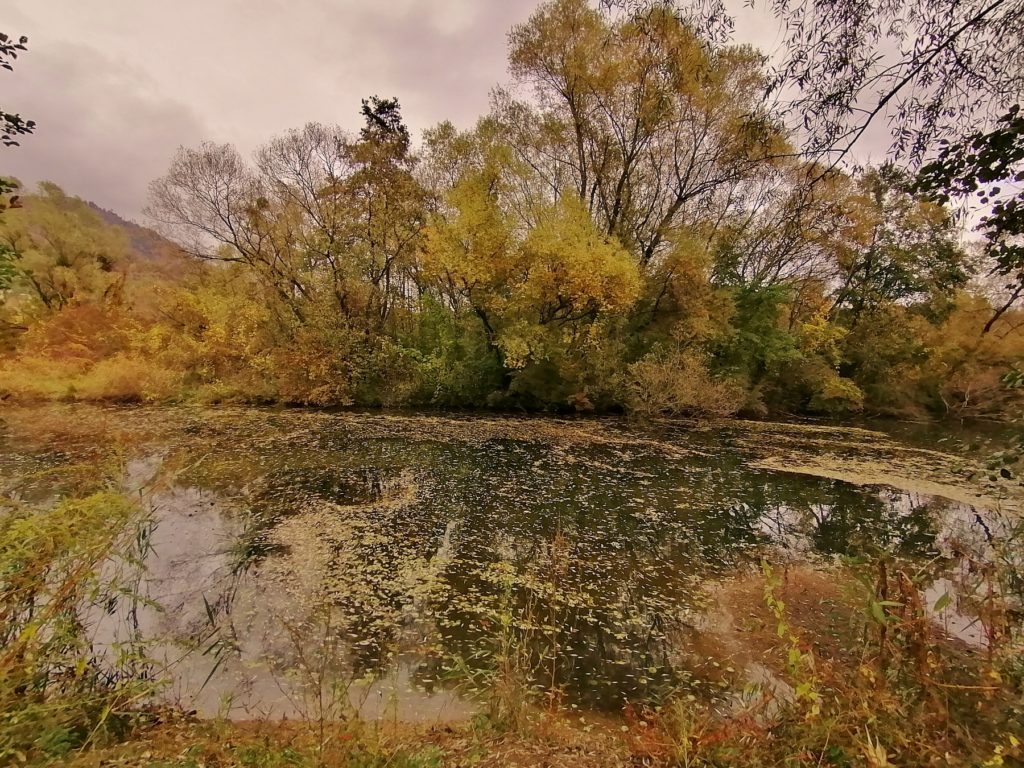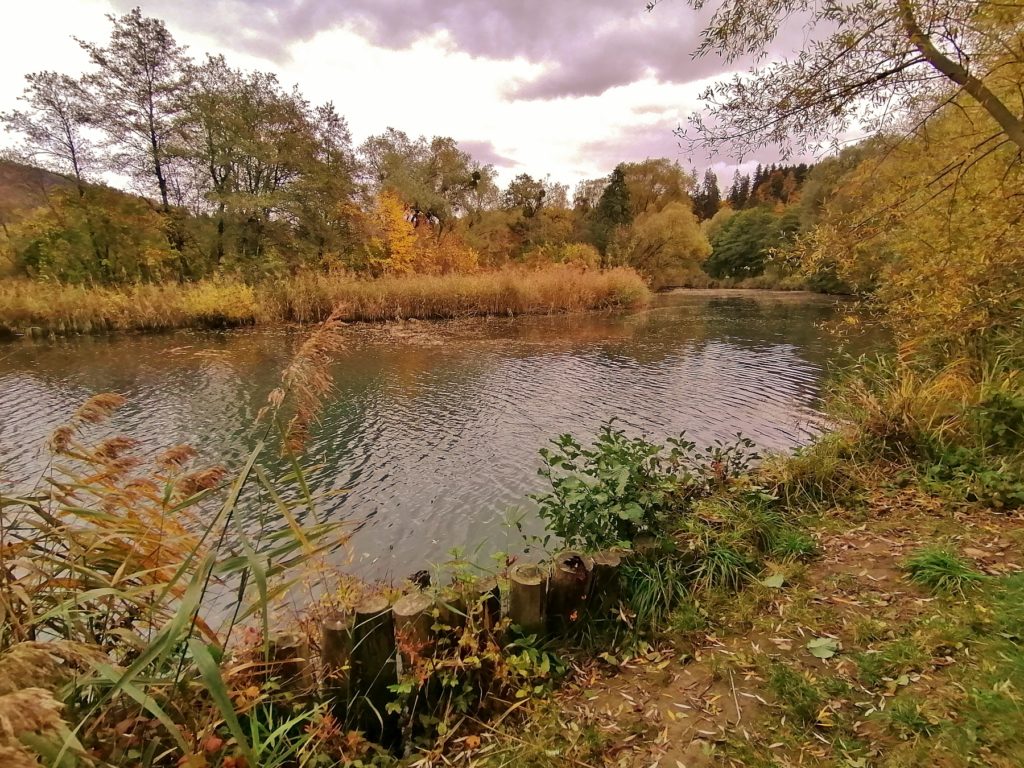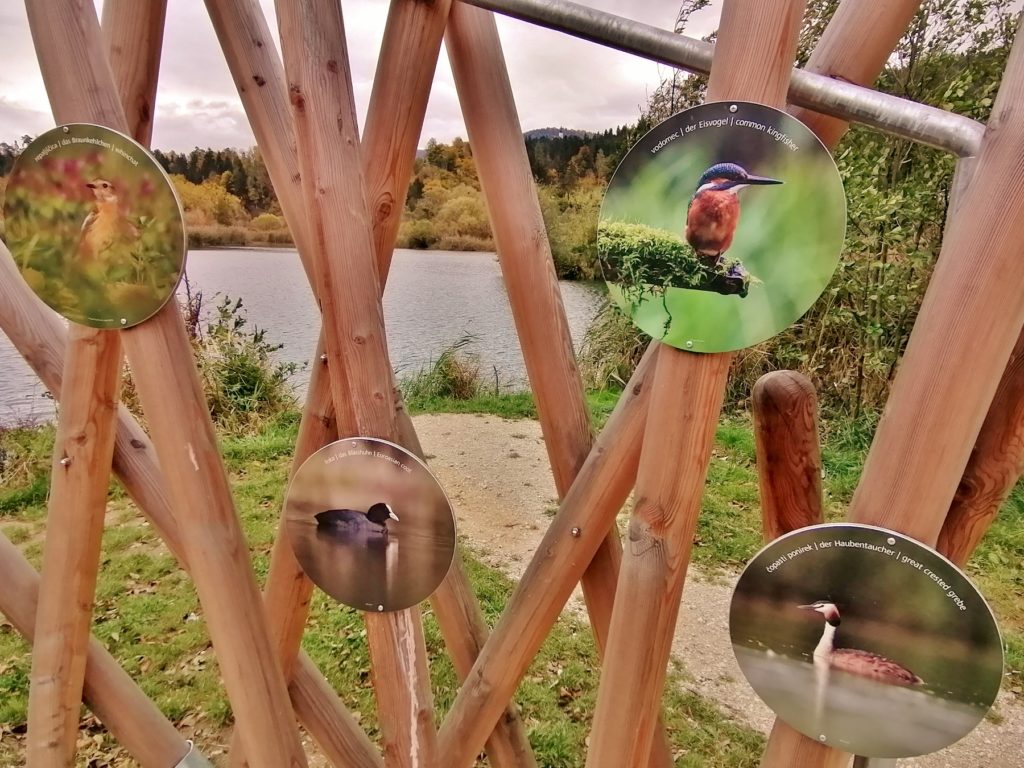 Bobrčkova pot in Dravograd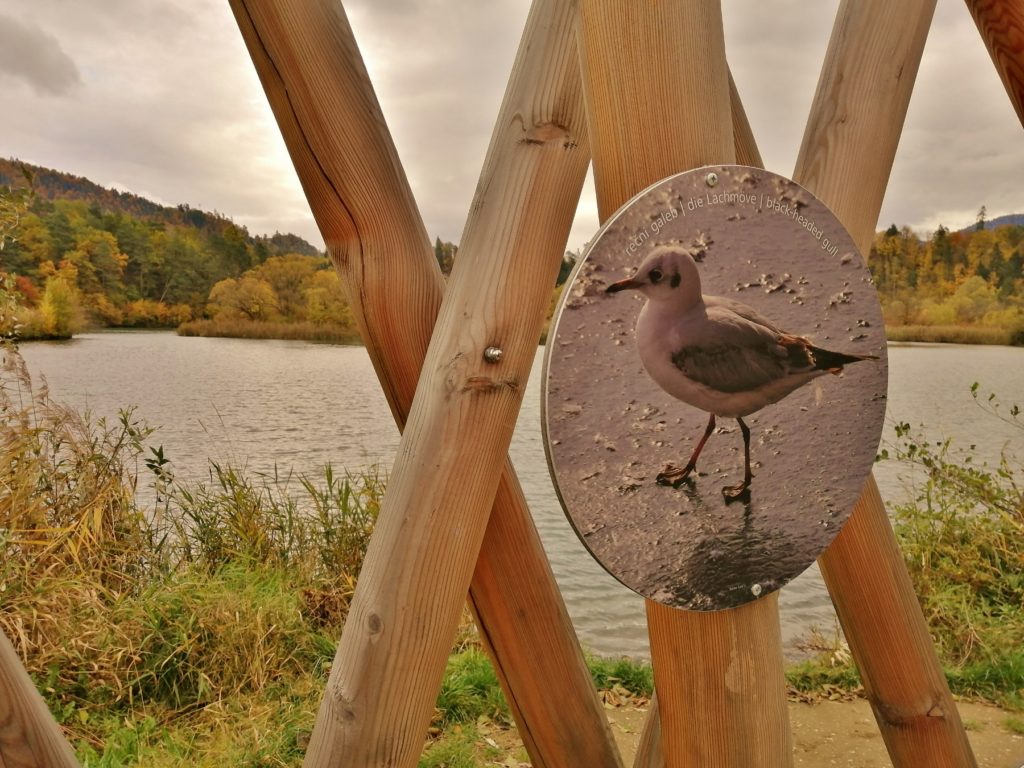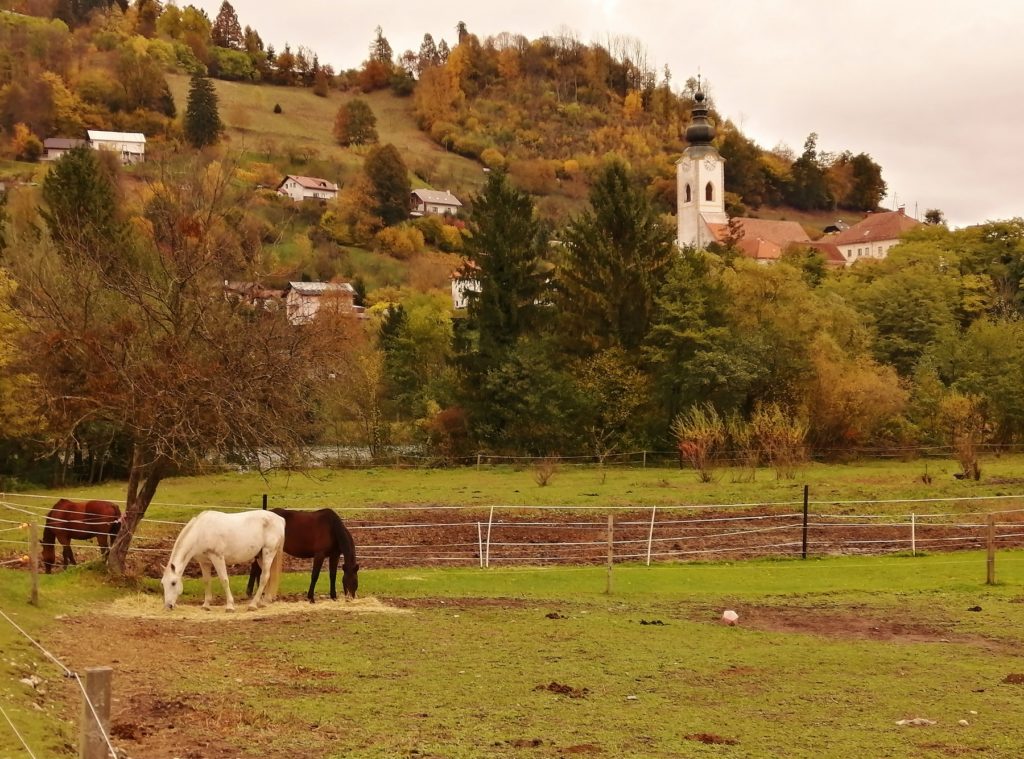 Blick über die Drau nach Dravograd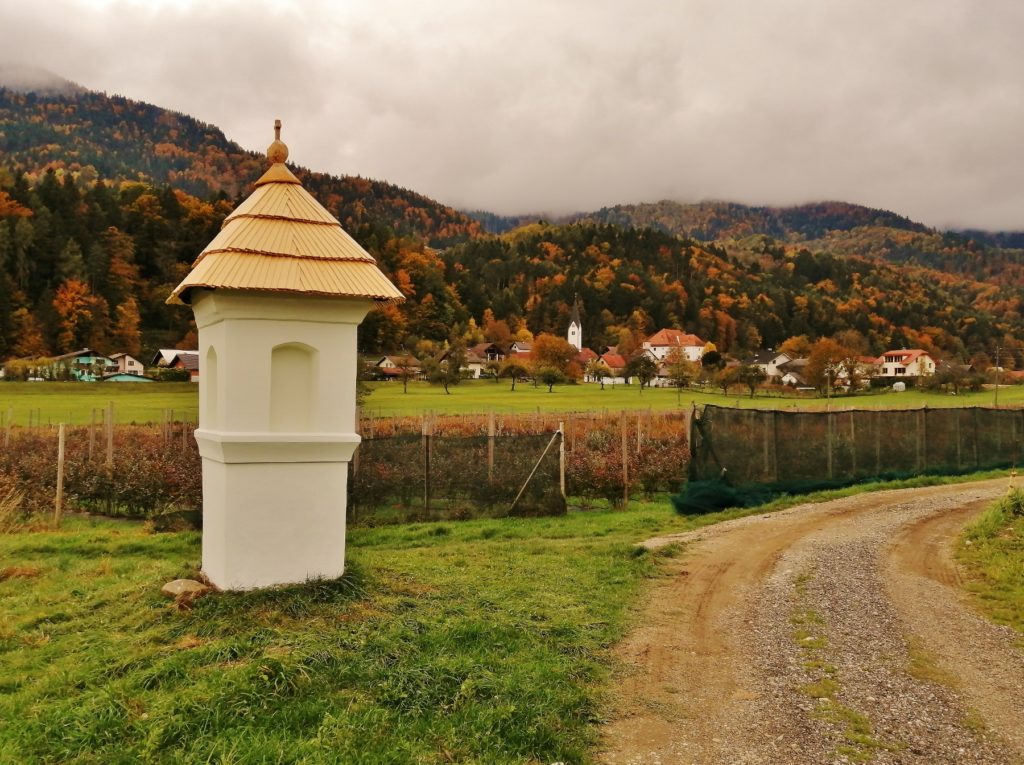 Bildstockerneuerung bei Črneče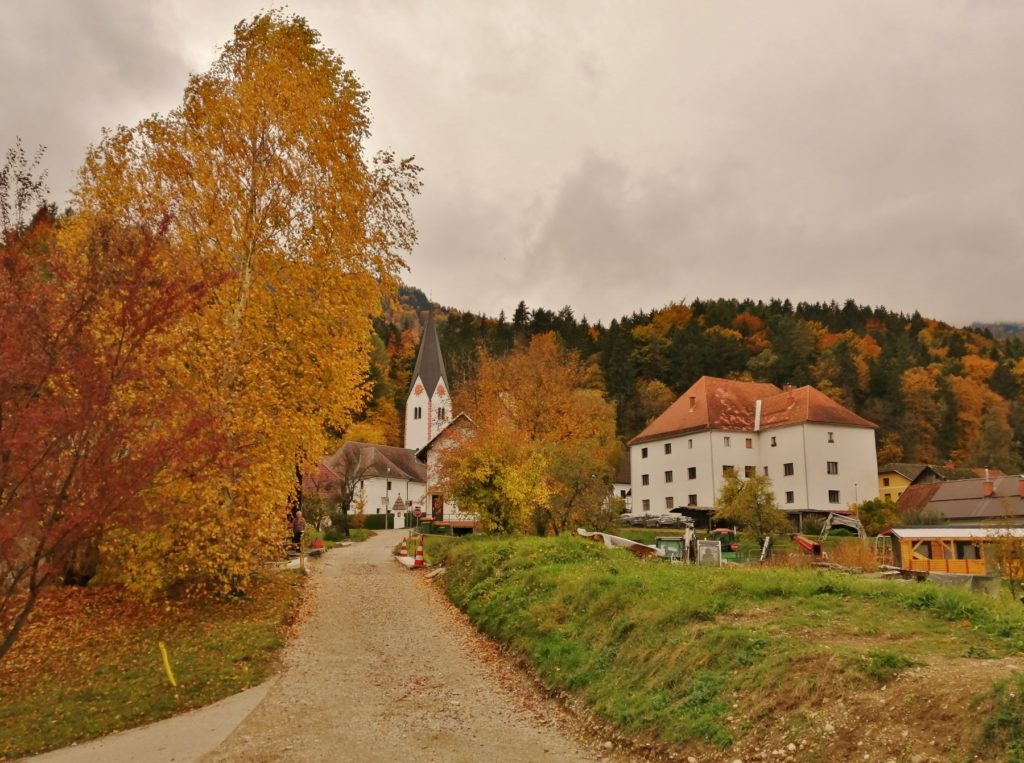 Heimfahrt via Črneče, Libeliče, Leifling und Bach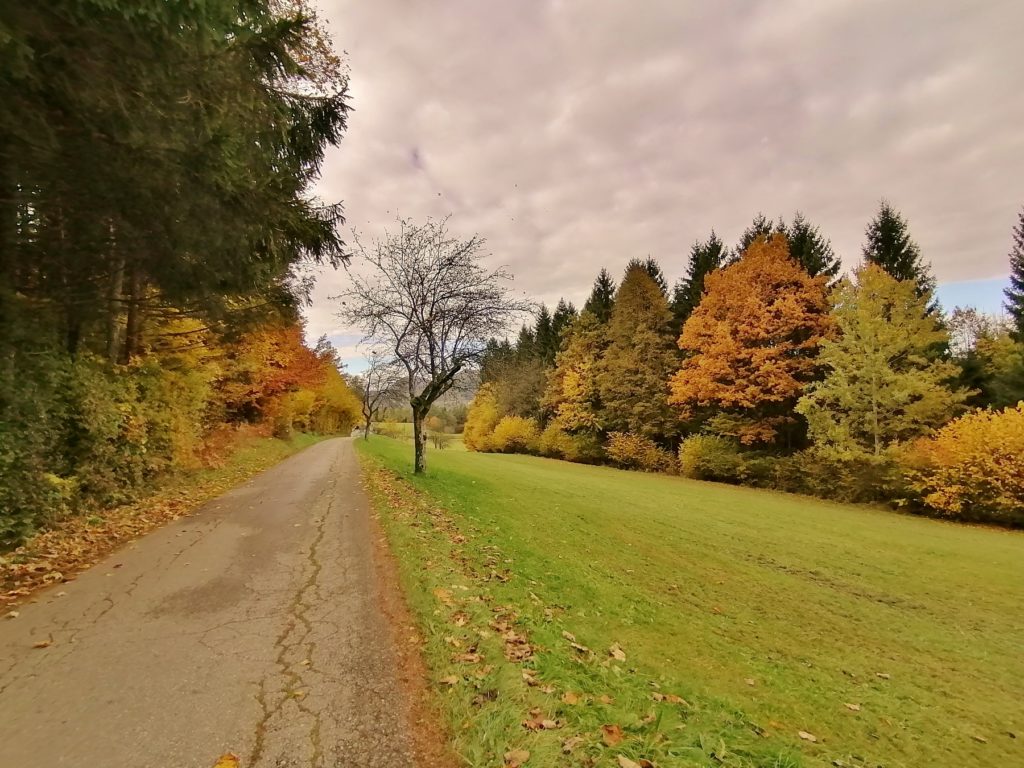 entlang der alten Bacher Straße, wo im November die Ausbauarbeiten beginnen werden, nach Pudlach