Visiting the bizarre Houseboats of Shoreham-on-Sea near Brighton in Sussex, UK

Take a walk with me along the banks of the River Adur to see the bizarre world of the Houseboats of Shoreham-on-Sea:
The Bizarre Houseboats of Britain
At the edge of the River Adur, adjacent to the British town of Shoreham-on-Sea in Sussex is a village of about 50 crazy-looking houseboats. Seven of these boats are the creation of local mad genius Hamish McKenzie, who started the community. McKenzie and his neighbors haunt farms and junkyards and dumps for the materials with which they build their unusual dwellings. Inhabitable vessels all, Hamish's favorite is made from a boat ambulance merged with a black and white checkered city bus, and finished off with a nose cone from a jumbo jet. His innovative use of recycled materials include using a microwave as a mailbox, a bookcase made from an old speedboat, a dish drain made from old wooden toilet seats (shudder), and windows made from massive tractor wheels. Recycle, reduce, reuse indeed!
"I use second-hand materials because I think there's life in inanimate objects. They've lived one life, and you're just changing their purpose… " Hamish McKenzie
In 1945, Britain retired quite a few of its smaller decommissioned military ships to the tidal mud flats around communities like Shoreham-on-Sea. So 32 years ago, when Hamish found himself homeless, he and a few friends decided to try living in them. He managed to scrape together enough money for his first boat – a junker – and has made a life for himself out of whatever he can find ever since. The genius of living in a houseboat, Hamish says, is that he's not required to follow any building codes or inspections. He can configure his spaces however he wants.
Shoreham Houseboats History Facebook page
You can learn more about the history of the community on the Shoreham Houseboats History Facebook page, and you can rent a houseboat for the night on Airbnb here and here..
Source: https://myonebeautifulthing.com/2018/10/23/floating-garbage/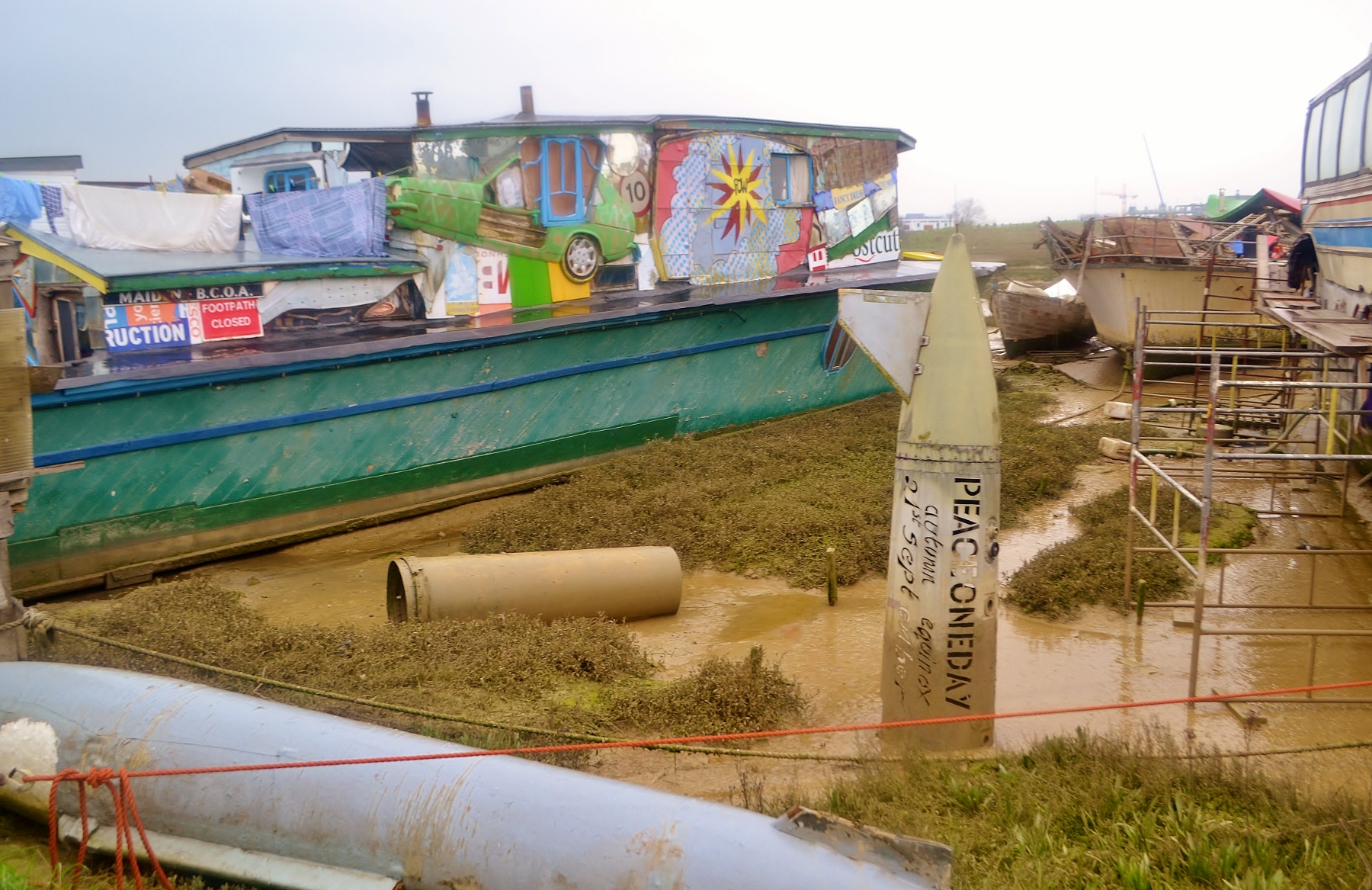 Using spare parts from old buses, missiles and planes, each boat has its own unique look and feel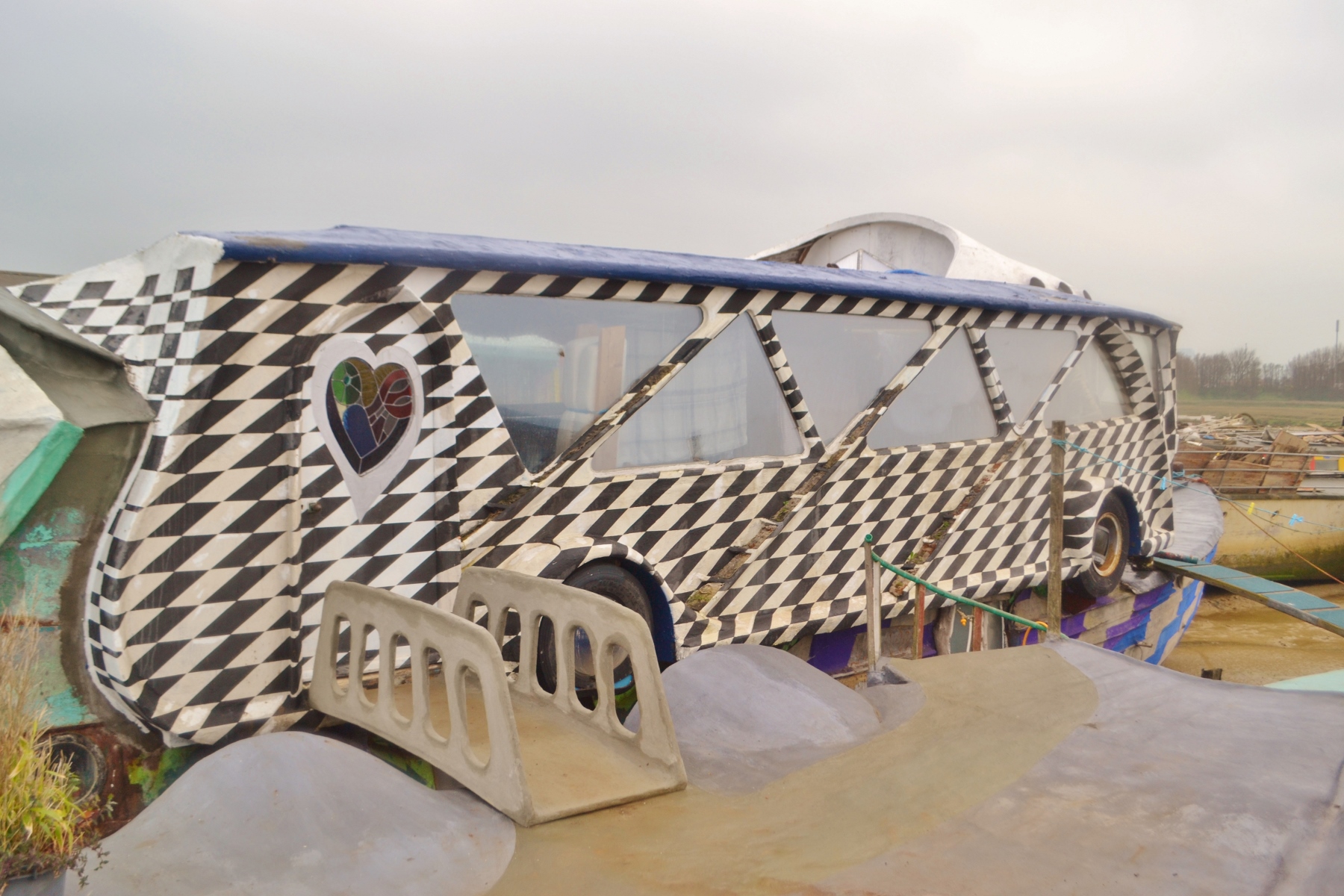 Old bus plus old ship equals houseboat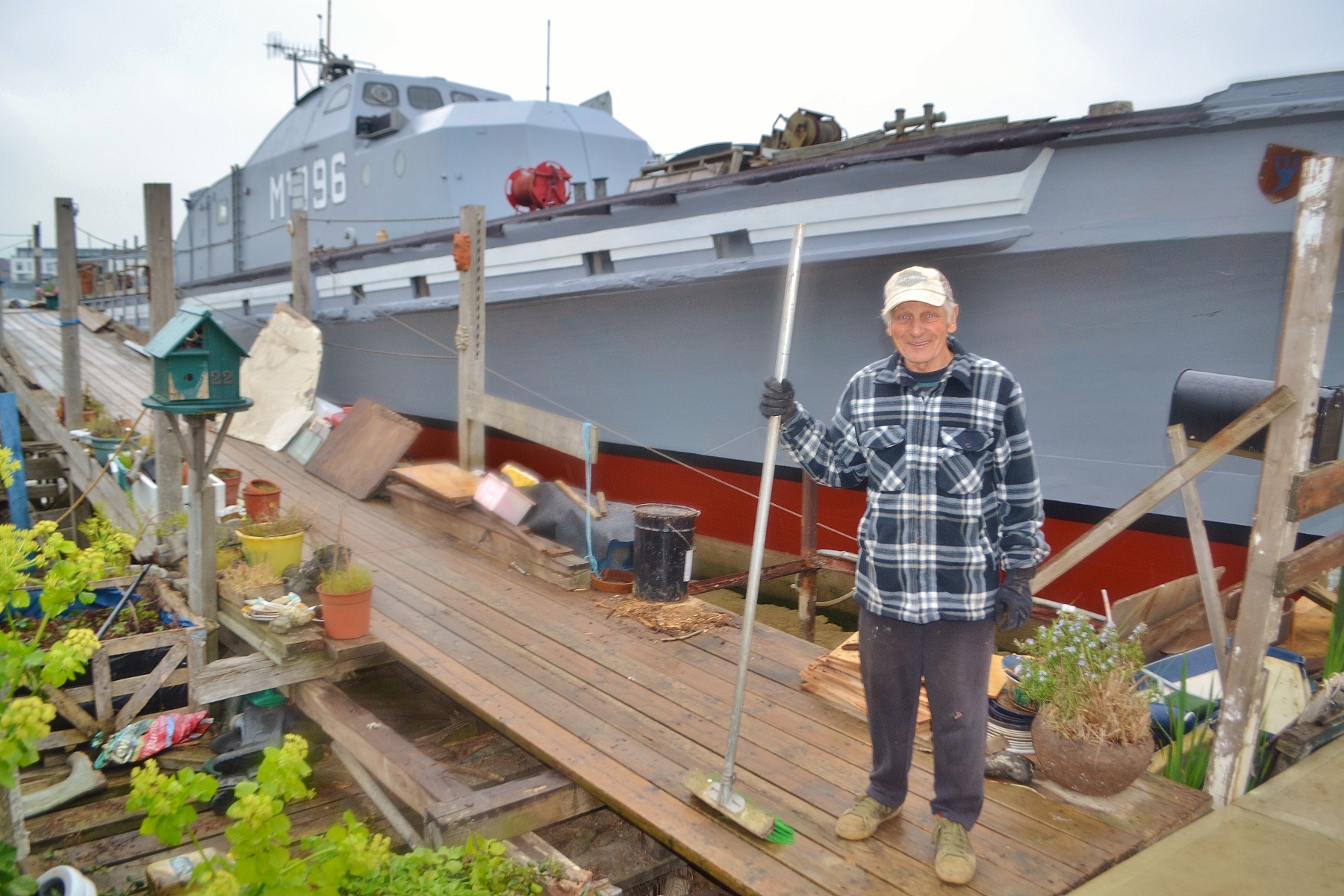 Meeting the owner of the biggest ship in town: Fred Cole and his  150ft long old minesweeper ship called  Fische carried a crew of 39 during the cold war when patrolling the Baltic Sea, so there was no shortage of space. She cost £800. Fred says he has always had an eye for a bargain, although it cost thousands to bring the boat to Shoreham, make it habitable – and then fight to keep it there.

Low tide at the River Adur and the houseboats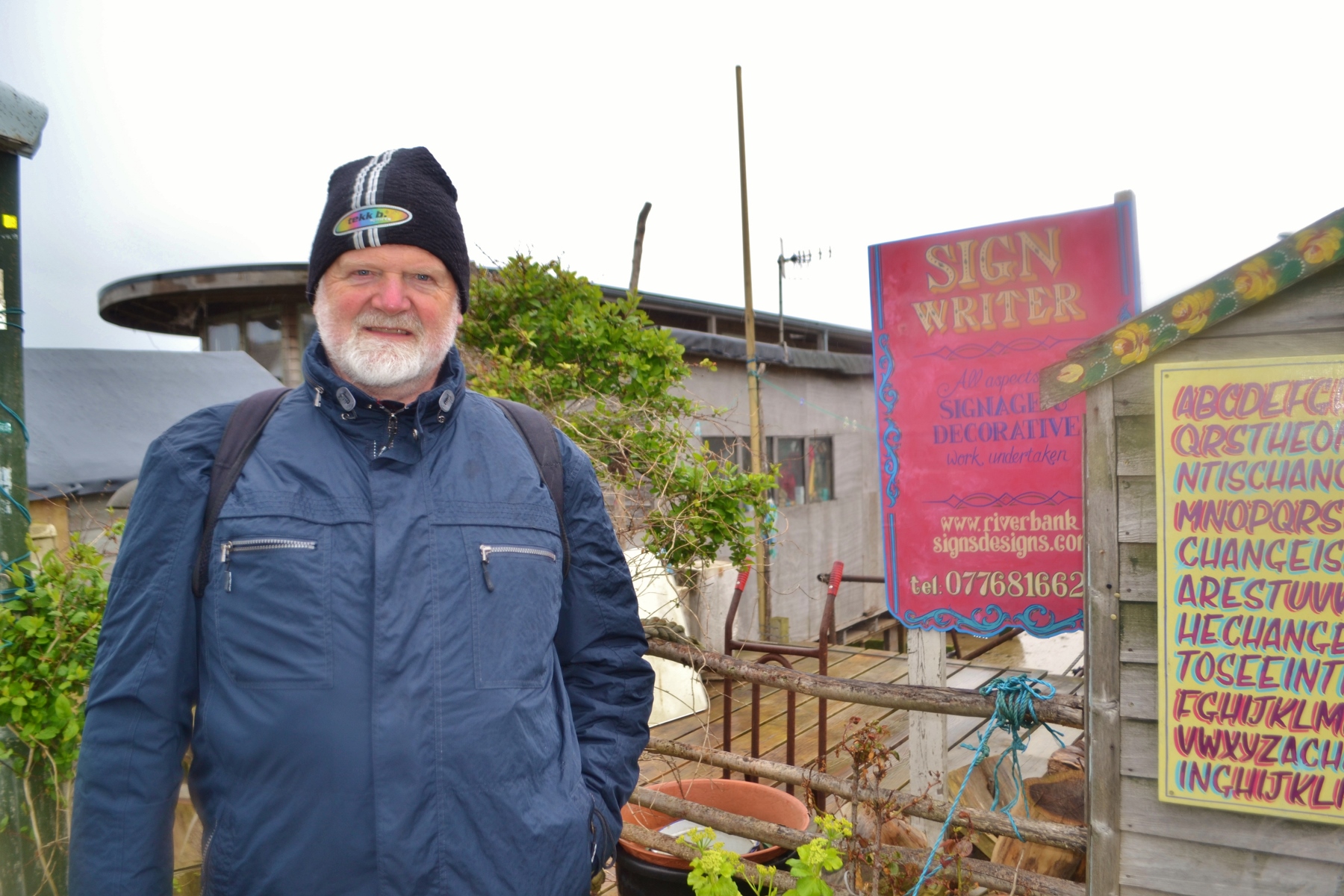 At the home of a signwriter
 
You can book your next holiday here

 Eccentric British Houseboats

Cool and Unusual Things to Do in Shoreham-by-Sea
What has grown along the "Bloomin' Adur" is a unique bridge between land and sea of cobbled treasures made from another's trash. The obscure houseboat art collective has been growing since the end of World War II, when decommissioned military ships were retired to Shoreham's tidal mud flats. Today there are some 50 to 60 boats to be found at the site and, since the structures are waterborne, few building regulations apply, meaning owners can unleash their greatest structural/architectural/artistic fancies in the midst of a wild, natural setting.
The result is a labyrinthine dream afloat — a gaudy Gaudi vision made with love and a lot of hard work. Some highlights include: the Verda, which is made of parts and portions of seven or eight different boats, as well as two buses and a Reliant Robin; the Dodge, which incorporates an old fire engine and is available for rent on Airbnb, making it one of the most magically odd apartments ever conceived; the Clive, a former World War II Motor Torpedo Boat (with an aeroplane fashioned on top, of course) now home to a huge workshop and pop-up cafe; and the Fische, a mid-century German minesweeper that — having been designed for a crew of 30 — now provides its owners with more-than-ample living space.
https://www.atlasobscura.com/places/houseboats-of-shoreham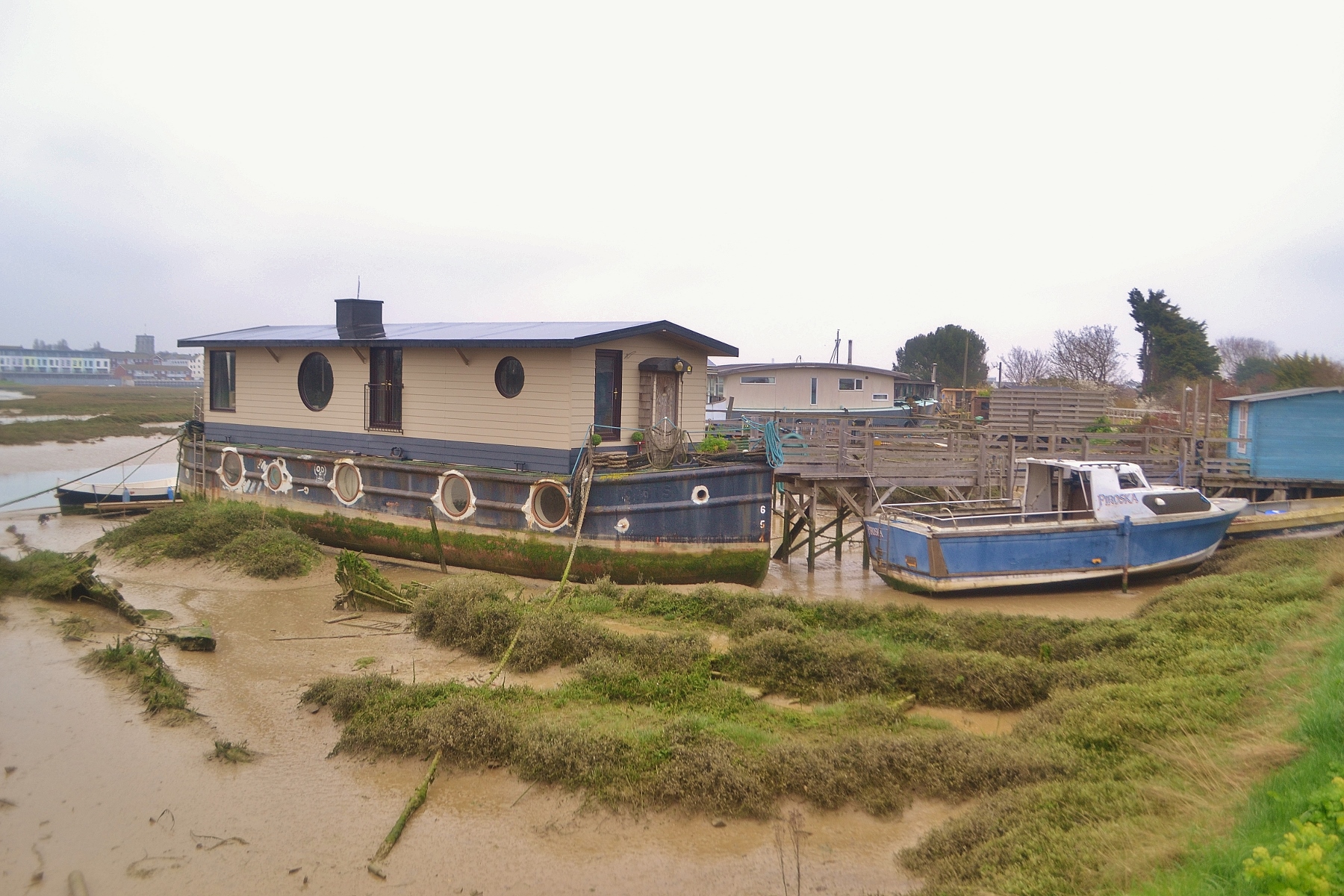 Know Before You Go
The boats are open for the Adur Festival, Adur Arts Festival and the River Festival – check online for dates. Train station is in the twee town of Shoreham a hop over the glass bridge, 700 coastal bus service runs regularly from Brighton and beyond.

Tucked into the estuary of the River Adur in the coastal town of Shoreham-on-Sea in Sussex, England is a row of houseboats in dazzlingly slapdash designs and bustling with the creative energy of its residents.